Single sign-on prompts for multiple logons across servers
This tip describes how to stop multiple logins when SSO was set up on multiple servers.
Looking for something else?
After a few months of setting up a client's environment with three Domino servers and a Sametime server, we started to notice that one of the servers started having SSO issues causing us to log in multiple times.

Download this free guide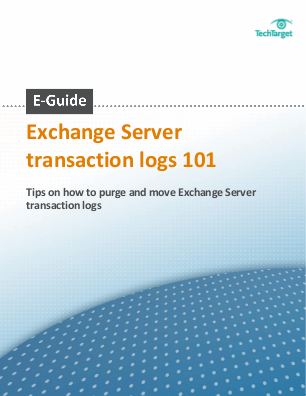 Download this strategic guide on moving Exchange Server transaction logs
Brush up on how log files have changed in Exchange to protect your setup against disaster, discover how to effectively purge transaction logs, and learn how to free up some of the disk space transaction logs have taken up on your drive.
By submitting your email address, you agree to receive emails regarding relevant topic offers from TechTarget and its partners. You can withdraw your consent at any time. Contact TechTarget at 275 Grove Street, Newton, MA.
You also agree that your personal information may be transferred and processed in the United States, and that you have read and agree to the Terms of Use and the Privacy Policy.

The clients log into a common, multi-server hostname: webaccess.site.com, which is setup in DNS to point to all three mail servers. This would prompt the user to log in and based on a PAB lookup, redirect to the appropriate mail server and mail file. We'd noticed that occasionally one of the three servers would give us the "Session Expired" error and force our users to login a second time.
After chasing down the error with the Knowledge Base, forums and even with support, I still had no answer. Then it hit me: Could the system time on the server have anything to do with it? All the servers used the good old MS "net time" sync in the login script. But like everything else, even if it's installed, is it running and running correctly?
Nope! One of the servers (the one with the issues) was four seconds off. It couldn't that simple, could it? Yep! The time was only synched when someone logged in. After installing a REAL time synch program (D4 from ThinkMan.com), all the servers were set to the exact same time (updated every 15 minutes, not once a month) and the SSO issue disappeared!
Do you have comments on this tip? Let us know.
Dig Deeper on Lotus Notes Domino Performance