The joys of Daylight Savings Time
The only way I could figure out correctly if we were in DST was with the NotesDateTime class property .IsDST
Looking for something else?
During this past weekend, we all enjoyed putting our clocks an hour forward (for Daylight Savings Time) to enjoy a little bit more sunshine when we crawl out of our cubicles ...

Download this free guide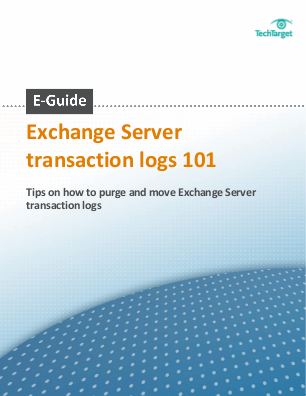 Download this strategic guide on moving Exchange Server transaction logs
Brush up on how log files have changed in Exchange to protect your setup against disaster, discover how to effectively purge transaction logs, and learn how to free up some of the disk space transaction logs have taken up on your drive.
By submitting your email address, you agree to receive emails regarding relevant topic offers from TechTarget and its partners. You can withdraw your consent at any time. Contact TechTarget at 275 Grove Street, Newton, MA.
You also agree that your personal information may be transferred and processed in the United States, and that you have read and agree to the Terms of Use and the Privacy Policy.

You've all probably noticed that Notes has lots of nice @Functions and Classes to play with Date/Times ... but how well do they adjust to Daylight Savings Time ?
I stumbled upon this because we developed a portal (a Welcome Page) where I work. This portal has a series of clocks at the bottom of the screen to display the times in various offices around the globe (we have offices in many countries). Anyway, I don't need to post the code to calculate the time in a different time-zone but I do want to warn people that the following don't work:
- @Zone is supposed to return "5.1" for the Eastern Standard Time time zone if we are in Daylight Savings time. Well, just forget that one ... it does not return the .1
- NotesInternational.IsDST seems to return True regardless if it's DST or not (I saw this behavior on a computer in Melbourne, Australia [they are not in DST anymore]).
The only way I could figure out correctly if we were in DST was with the NotesDateTime class property .IsDST
I just pasted the example taken from the Designer Help file.
Anyway, perhaps others have seen this or maybe I am wrong but I posted this to help out others who might have the same problem today :)
Take care!


Dim dateTime As New NotesDateTime( "" )
Call dateTime.SetNow
If dateTime.IsDST Then
  Messagebox( "Enjoy the long days." )
Else
  Messagebox( "Endure the darkness." )
End If

Dig Deeper on Domino Resources - Part 7