True Domino Blooper #4: Extended directories or bust!
This Lotus administrator wanted to create a searchable directory so there would be equality for mobile and LAN users on his system.
Looking for something else?
This Lotus administrator wanted to create a searchable directory so there would be equality for mobile and LAN users on his system. Thanks to some confusing documentation the only equality he achieved was denying e-mail service to both sets of users making them equally grumpy.


Download this free guide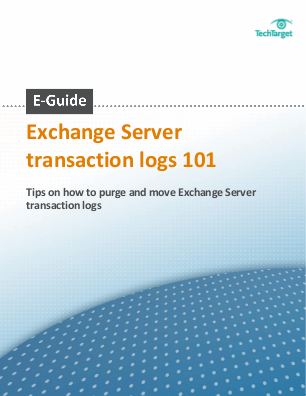 Download this strategic guide on moving Exchange Server transaction logs
Brush up on how log files have changed in Exchange to protect your setup against disaster, discover how to effectively purge transaction logs, and learn how to free up some of the disk space transaction logs have taken up on your drive.
By submitting your email address, you agree to receive emails regarding relevant topic offers from TechTarget and its partners. You can withdraw your consent at any time. Contact TechTarget at 275 Grove Street, Newton, MA.
You also agree that your personal information may be transferred and processed in the United States, and that you have read and agree to the Terms of Use and the Privacy Policy.

Last year I was experimenting with Extended Directories, a great new type of directory that is used as either a mobile directory or as a cascaded directory. Actually, the reason I was drawn to "Extended Directory" in the first place was to replace the "Light Directories" I had created earlier. You see Lotus allows you to create the "light directory" sortable on Firstname Lastname or Lastname Firstname, but not both!
So a mild hack would need to include two directories that a mobile user would need to allow the same search capabilities (type-ahead) as our LAN users have come to love.
The extended directory was just what the doctor ordered except for its large size, about 80% of the full Domino directory. But who cares, it is one directory that works well, and besides, I see less problems with it, like multiple rep conflicts that were plaguing the "Light Directories."
I created the Extended Directory and used the following command to populate the directory. By the way, this is how the Lotus Admin Help Doc reads:
load Dircat dc.nsf where dc.nsf is the file name of the source directory catalog.
So, thinking that source means Names.nsf, my command was "Load Dircat Names.nsf", Which basically replaced the Names.nsf with the Extended Directory's template, thus removing all server and connection views.
Oops...
Once the router detected a NAB change and reloaded, there were no mail routes defined and mail backed up very quickly.
It was some time later that evening that I got a phone call from our computer operators and discovered the missing views. The design template was a quick and easy fix.
---
Do you have your own blooper? Send it in and claim your fame.
Every story in our bloopers series comes to us directly from a SearchDomino.com administrator, developer or consultant. For obvious reasons, some contributors -- including this tale's author -- choose to remain anonymous.
MORE ON THIS TOPIC:
Read all SearchDomino.com's true bloopers.
View our Best Web Links on Domino/Notes administration.

Dig Deeper on Domino Resources - Part 2