Unhiding a Hidden Design, The Easy Way
This tip describes how to reveal hidden designs.
Looking for something else?

Download this free guide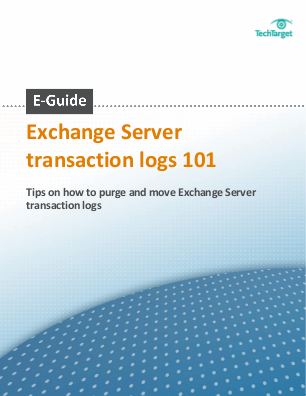 Download this strategic guide on moving Exchange Server transaction logs
Brush up on how log files have changed in Exchange to protect your setup against disaster, discover how to effectively purge transaction logs, and learn how to free up some of the disk space transaction logs have taken up on your drive.
By submitting your email address, you agree to receive emails regarding relevant topic offers from TechTarget and its partners. You can withdraw your consent at any time. Contact TechTarget at 275 Grove Street, Newton, MA.
You also agree that your personal information may be transferred and processed in the United States, and that you have read and agree to the Terms of Use and the Privacy Policy.

You Can View User Feedback To This Tip
I have seen numerous methods for unhiding db designs, all involving many steps and other products.
Why not simply use notes to do it the simple way. Use the archiving function already in R5.
Enable archiving on the Db.
Db properties Dialog: Set the Archive settings.Do not tick any settings for any documents as you donot want any documents only design. Note: locate where archive will be created.
Select Db to be unhidden.
File - Database - Archive (ensure your have Manager access and all the appropriate roles)
All done. The archive version is fully unhidden.
After that you can create templates, etc to alter and apply any changes.


No mucking around with Hex editors or the original db. Nice and safe to perform.
(This tip) could only possibly work if the database design were not properly hidden to begin with. When you hide a database design, the LotusScript source code is removed from it. Nothing you can do will put it back, except by copying the unhidden design elements from the template. This can happen accidentally, however, and usually does, because nearly nobody understands the right way to hide a database design. It's documented incorrectly in all the Lotus documentation. When using Replace Design to hide the database design, do not check both the "hide design" checkbox and the "inherit design changes from template" checkbox. If you do, the next time the design is refreshed (which generally happens automatically on the server overnight), the "unhidden" design elements from the template will replace the "hidden" versions in the application database. The "hidden design" flag in the database properties remains set, but the individual design elements are no longer hidden -- the LotusScript source is once more available and can be debugged -- or copied to an archive database. —Andre Guirard
Dig Deeper on Lotus Notes Domino Database Management