Universal Data Maintenance Agent
How many times have you written a diddy of an agent to go out and change some field values for you? How many databases do you have with these left over agents that perform specific data maintenance for specific purposes? By using the Handy Dandy agents below, you need not do this anymore. One agent can be used to change any field value in any system on selected docs! You can change the code to use environment variables if you prefer. Don't leave home without it!

Download this free guide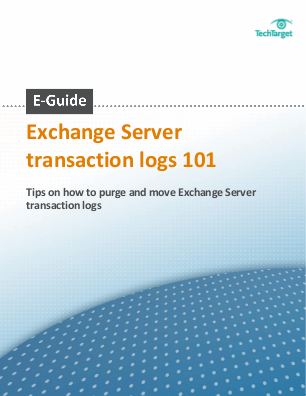 Download this strategic guide on moving Exchange Server transaction logs
Brush up on how log files have changed in Exchange to protect your setup against disaster, discover how to effectively purge transaction logs, and learn how to free up some of the disk space transaction logs have taken up on your drive.
By submitting your email address, you agree to receive emails regarding relevant topic offers from TechTarget and its partners. You can withdraw your consent at any time. Contact TechTarget at 275 Grove Street, Newton, MA.
You also agree that your personal information may be transferred and processed in the United States, and that you have read and agree to the Terms of Use and the Privacy Policy.

Main Agent Calling - Execute Once Macro
INP := @Prompt([OKCANCELEDIT];"Input Field Name";"EnterField";"");
@SetProfileField("AppProfile"; "tField"; INP);
VAL := @Prompt([OKCANCELEDIT];"Enter Field Value";"Enter Field Value";"");
@SetProfileField("AppProfile"; "tVAL"; VAL);
@Command([ToolsRunMacro];"Set Field Values")
Called Agent "Set Field Values" - Run on Selected Documents
INP := @GetProfileField("AppProfile"; "tField" );
VAL := @GetProfileField("AppProfile"; "tVAL");
FIELD INP := INP;
@SetField(INP;VAL);SELECT @All
Dig Deeper on Domino Resources