Use MS Excel to blaze through scripting grunt work
This tip details how to use MS Excel to automate parts of the scripting process.
Looking for something else?
I recently had a project that included converting bazillions of rows from flat text files to Notes Documents. Given the high volume of repetitive junk like 'Dim xyz as String' and 'doc.Firstname = FIRSTNAME'... I began using Microsoft Excel to compose code then copy and pasted to the Designer IDE. Using Excel formula language to concatenate strings together and then "Autofilling" the formulas down a column saved me hours of tedious writing and clicking...

Download this free guide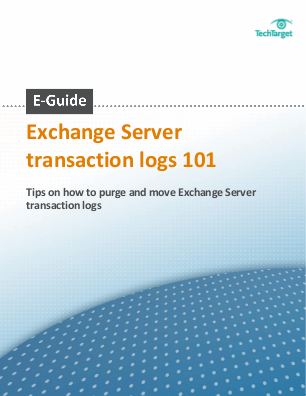 Download this strategic guide on moving Exchange Server transaction logs
Brush up on how log files have changed in Exchange to protect your setup against disaster, discover how to effectively purge transaction logs, and learn how to free up some of the disk space transaction logs have taken up on your drive.
By submitting your email address, you agree to receive emails regarding relevant topic offers from TechTarget and its partners. You can withdraw your consent at any time. Contact TechTarget at 275 Grove Street, Newton, MA.
You also agree that your personal information may be transferred and processed in the United States, and that you have read and agree to the Terms of Use and the Privacy Policy.

Here's a simple example: In an Excel spreadsheet list Variable in Column A and field names from Notes forms in Column B.

Column A
FIRSTNAME
LASTNAME
etc...

Column B
FirstName
LastName
etc.

Now in column C, create a simple formula like this:
' ="Dim "&A1&" as String" '  
Autofill this formula down the column to create all of your lines"
Dim FIRSTNAME as String
Dim LASTNAME as String 

A formula in column D:
'  ="doc."&a1&" = "&B1  '
will Autofill down to give you these:
doc.FirstName = FIRSTNAME
doc.LastName = LASTNAME

Copy and paste these columns to the Designer IDE.  Very easy and very effective!  I now use this trick all the time...  Most often to propogate lines that use multiple string handling functions like this:
VARIABLENAME = Trim(Mid$(VARx(250,15))

Dig Deeper on Lotus Notes Domino Administration Tools