Use Nothing for cutoff date in NotesDatabase.Search
This tip describes how to use nothing for cutoff date in NotesDatabase.Search.
Looking for something else?
Many Notes developers have learned to use a date far in the past to limit search results, when they really want Search to return all results regardless of date. Example:

Download this free guide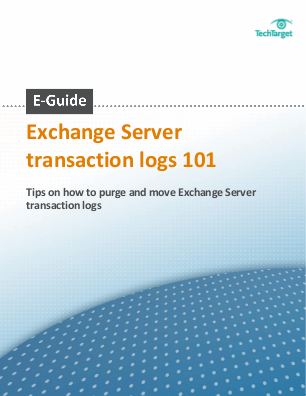 Download this strategic guide on moving Exchange Server transaction logs
Brush up on how log files have changed in Exchange to protect your setup against disaster, discover how to effectively purge transaction logs, and learn how to free up some of the disk space transaction logs have taken up on your drive.
By submitting your email address, you agree to receive emails regarding relevant topic offers from TechTarget and its partners. You can withdraw your consent at any time. Contact TechTarget at 275 Grove Street, Newton, MA.
You also agree that your personal information may be transferred and processed in the United States, and that you have read and agree to the Terms of Use and the Privacy Policy.

Dim dateTime As New NotesDateTime("12/01/94")
Set collection = db.Search(searchFormula$, dateTime, 0)
This is wrong for two reasons.
First, it's inefficient to do the unnecessary test of last modified date.
Second, the way the date is specified makes this code incompatible with systems that represent dates differently, e.g. Japanese computers use yyyy/mm/dd, so the string "12/01/94" is not a valid date.
If you want all search results regardless of date, use Nothing as the date argument, e.g.:
Set collection = db.Search(searchFormula$, Nothing, 0)
Dig Deeper on Domino Resources - Part 7