Useful Tip To Debug Server Based Agents
Looking for something else?
This is a programming tip which could help you in debugging server-based agents.
It is often hard to find out what is wrong with an agent that fails to run on schedule on a server but runs when you start them manually. This little script writes all the properties of the agent in the NotesLog.

Download this free guide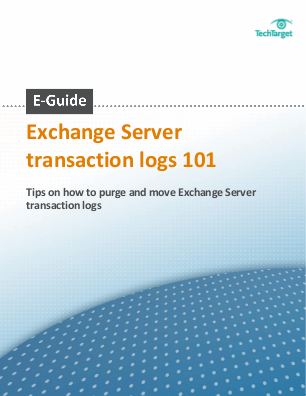 Download this strategic guide on moving Exchange Server transaction logs
Brush up on how log files have changed in Exchange to protect your setup against disaster, discover how to effectively purge transaction logs, and learn how to free up some of the disk space transaction logs have taken up on your drive.
By submitting your email address, you agree to receive emails regarding relevant topic offers from TechTarget and its partners. You can withdraw your consent at any time. Contact TechTarget at 275 Grove Street, Newton, MA.
You also agree that your personal information may be transferred and processed in the United States, and that you have read and agree to the Terms of Use and the Privacy Policy.

Just put the code in to of your agent, save the agent, and wait till something pops up in the NotesLog.
Sub Initialize
Dim session As New NotesSession
Dim db As NotesDatabase
Dim theAgent As NotesAgent
Dim agentString As String
Set db = session.CurrentDatabase
Set theAgent = session.CurrentAgent
agentString = db.Title
Print "NotesDatabase.Title properity: " & agentString
agentString = theAgent.Name
Print "NotesAgent.Name properity: " & agentString
agentString = session.EffectiveUserName
Print "NotesSession.EffectiveUserName properity: " &
agentString
If session.IsOnServer Then
Print "NotesSession.IsOnServer properity is True"
Else
Print "NotesSession.IsOnServer properity is False"
End If
agentString = session.UserName
Print "NotesSession.UserName properity: " & agentString
If theAgent.IsEnabled Then
Print "NotesAgent.IsEnabled properity is True"
Else
Print "NotesAgent.IsEnabled properity is False"
End If
If theAgent.IsPublic Then
Print "NotesAgent.IsPublic properity is True"
Else
Print "NotesAgent.IsPublic properity is False"
End If
agentString = theAgent.Owner
Print "NotesAgent.Owner properity: " & agentString
End Sub
Dig Deeper on Lotus Notes Domino Administration Tools