Users Can Add Name & Phone To Bottom Of Emails
Looking for something else?

Download this free guide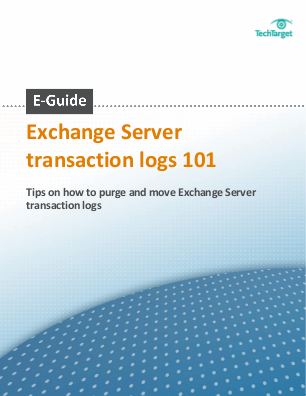 Download this strategic guide on moving Exchange Server transaction logs
Brush up on how log files have changed in Exchange to protect your setup against disaster, discover how to effectively purge transaction logs, and learn how to free up some of the disk space transaction logs have taken up on your drive.
By submitting your email address, you agree to receive emails regarding relevant topic offers from TechTarget and its partners. You can withdraw your consent at any time. Contact TechTarget at 275 Grove Street, Newton, MA.
You also agree that your personal information may be transferred and processed in the United States, and that you have read and agree to the Terms of Use and the Privacy Policy.

This easy procedure adds a user's name, title and phone number to the bottom of
his/her emails without requiring design access by creating a SmartIcon.

1. Go to File, Tools, SmartIcons (for R5 users -- File, Preferences,
SmartIcons)
2. Go to the bottom of the Available SmartIcons toolbox and select one of the
Macro Buttons.
3. Drag the Macro Button into the other toolbox.
4. With the Macro Button selected, click on Edit Icon.
5. Give it a description and click Formula.
6. Paste the following formula into the window and change the information so
it appears with user-specific information.
7. Select OK, Done, and OK.

Here's the code:
BusinessCard:=@NewLine + "____________________" +
@NewLine + "Your Name" +
@NewLine + "Your Position" +
@NewLine + "Your Company" +
@NewLine + "Phone: (000) 000-0000" +
@NewLine + "Fax: (000) 000-0000" ;
@Command([EditInsertText]; BusinessCard)

Here's what it looks like:

___________________
Your Name
Your Position
Your Company
Phone: (000) 000-0000
Fax: (000) 000-0000
When the user gets to the end of his/her email, he/she just clicks on the
SmartIcon that they created.

Dig Deeper on Lotus Notes Domino Administration Tools