Using ?OpenView&StartKey on the Web for numbers
Using ?OpenView&StartKey on the web for numbers
Looking for something else?
Using ?OpenView⋆tKey on the Web for numbers...

Say you have a situation where the view leading key is a number, this by itself poses no problem. However, when you try to access this view from the Web using something like this:

Download this free guide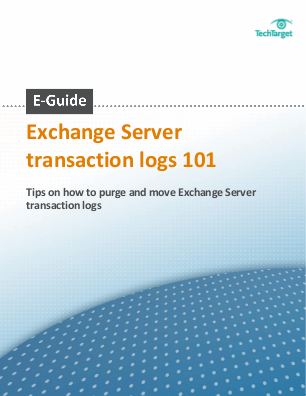 Download this strategic guide on moving Exchange Server transaction logs
Brush up on how log files have changed in Exchange to protect your setup against disaster, discover how to effectively purge transaction logs, and learn how to free up some of the disk space transaction logs have taken up on your drive.
By submitting your email address, you agree to receive emails regarding relevant topic offers from TechTarget and its partners. You can withdraw your consent at any time. Contact TechTarget at 275 Grove Street, Newton, MA.
You also agree that your personal information may be transferred and processed in the United States, and that you have read and agree to the Terms of Use and the Privacy Policy.

http://Host/Database/ViewNoteID?OpenView&StartKey=<string>
Then the funs begin ......
It seems that you have to use a string in the first column (the sorted one) so you go ahead and use @Text(<Your_Numeric_Key>) ,if you do that things get no better because the @Text function remove the leading zeros and the result looks like this:
     6  
     60 
     600
     601
     61 
     610
     699
     7  
     70 
     700
     71 
     710
     719
     72 
However if you use a formula like this one:
@Repeat(" "; 5 - @Length(@Text(<Your_Numeric_Key>))) + @Text(<Your_Numeric_Key>)
(The 5 stands for a key up to 99999. If you expect a bigger key, use a bigger number) The formula adds leading blanks so the result in nicely adjust and the result looks like this:
  6
  7
  8
  9
 10
 11
In order to use the StartKey= we have to add leading blanks: The full code for the Java script stuff is to big to fit here but it comes down to this:
query.value =  "               ".substr(1,5 - query.value.length) + query.value ;
window.opener.location.search= "?OpenView&StartKey=" + query.value + "&Count=10&"  ;
Note: query is the field the user will fill to get to the required key.
Dig Deeper on Domino Resources - Part 7