Using Profile Document To Store Sap Login Information
Looking for something else?

Download this free guide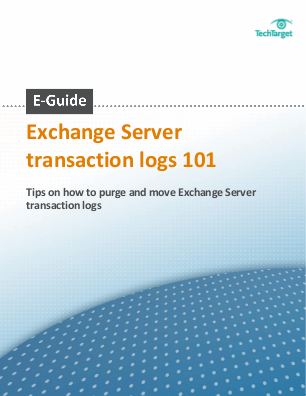 Download this strategic guide on moving Exchange Server transaction logs
Brush up on how log files have changed in Exchange to protect your setup against disaster, discover how to effectively purge transaction logs, and learn how to free up some of the disk space transaction logs have taken up on your drive.
By submitting your email address, you agree to receive emails regarding relevant topic offers from TechTarget and its partners. You can withdraw your consent at any time. Contact TechTarget at 275 Grove Street, Newton, MA.
You also agree that your personal information may be transferred and processed in the United States, and that you have read and agree to the Terms of Use and the Privacy Policy.

YOU have a Notes-SAP integration project and you are creating a database. You
do not want clever user to bypass the navigator and access the views direct to
peek system settings (e.g. SAP login information).

SO how do you prevent that?
YOU can use the database profile document which is not shown in a view.

FIRSTLY, you create a form which contains two set of fields; one set of
editable fields for user to update/modify, the other set of computed for
display for retrieving last saved values.

NEXT, create a corresponding button; one for updating the values, the other one
for retrieving the values.

THIS is the code for the first button:-
@SetProfileField("SAPSetup";"ProfileServerName";ServerName) ;
@SetProfileField("SAPSetup";"ProfileUserName";UserName) ;
@SetProfileField("SAPSetup";"ProfilePassword";Password)

AND this is the code for the second button:-
FIELD dServerName := @GetProfileField("SAPSetup";"ProfileServerName") ;
FIELD dUserName := @GetProfileField("SAPSetup";"ProfileUserName") ;
FIELD dPassword := @GetProfileField("SAPSetup";"ProfilePassword") ;

FINALLY in your LotusScript code, you can access the profile document for the
SAP login information using this sample code:-

Dim session As New NotesSession
Dim db As NotesDatabase
Set db = session.CurrentDatabase
Dim doc_Profile As NotesDocument

Set doc_Profile = db.GetProfileDocument("SAPSetup")

Server$=doc_Profile.ProfileServerName(0)
UserName$=doc_Profile.ProfileUserName(0)
Password$=doc_Profile.ProfilePassword(0)

'***CALL THE LOGIN ROUTINE IN SAPLSX***
...

REMARKS: The above login information is not exhaustive, you may like to
complete it by including fields like server, host, client number, language etc.
Dig Deeper on Domino Resources - Part 7