Warning on trimming strings with @Trim and Trim
A warning about trimming functions in LotusScript and Formula.
Looking for something else?
I have been using LotusScript for years but have just found out that Trim(<string&>) in LotusScript is not the equivalent of @Trim in the formula language!

Download this free guide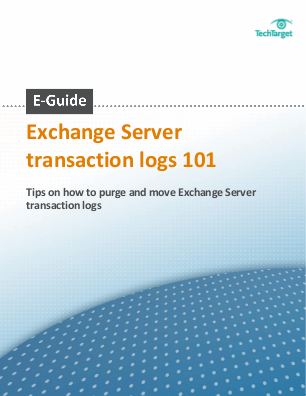 Download this strategic guide on moving Exchange Server transaction logs
Brush up on how log files have changed in Exchange to protect your setup against disaster, discover how to effectively purge transaction logs, and learn how to free up some of the disk space transaction logs have taken up on your drive.
By submitting your email address, you agree to receive emails regarding relevant topic offers from TechTarget and its partners. You can withdraw your consent at any time. Contact TechTarget at 275 Grove Street, Newton, MA.
You also agree that your personal information may be transferred and processed in the United States, and that you have read and agree to the Terms of Use and the Privacy Policy.

@Trim also removes redundant spaces within the string as well as leading and trailing white space, which the basic LotusScript Trim doesn't. While this normally might not make much of a difference, it does if you use both LotusScript and Formula language to build field values when the data changes in an external data source. The correct equivalent of @Trim is FullTrim in LotusScript with an example of its use below.


employeeName = firstname & " " & lastName
employeeName = FullTrim(EmployeeName)
doc.ED_FullName = employeeName

NB: You have to call Fulltrim after you have assembled your string, as it doesn't seem to like being wrapped around a formula (which you can do with Trim), as shown in the example above.

The issue came to light in a data conversion, as the data source for employee details was a relational database in which users were not shy about adding extra spaces wherever they felt like it, which really messed up my views -- especially those categorized by employee name.

Do you have comments on this tip? Let us know.
Dig Deeper on Lotus Notes Domino Formula Language