Web-based, fully customizable search
Looking for something else?
This agent is called in a browser and returns all documents that match the search critera passed in the URL. I developed this in order to get a Web-based search function where the sort order is by date (without getting messed up with "relevance", and where I have full control of the output.)

Download this free guide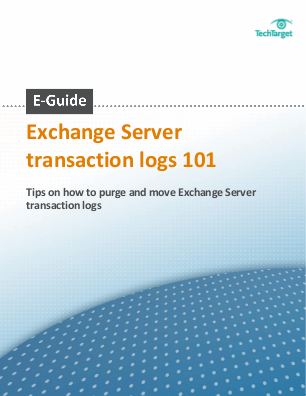 Download this strategic guide on moving Exchange Server transaction logs
Brush up on how log files have changed in Exchange to protect your setup against disaster, discover how to effectively purge transaction logs, and learn how to free up some of the disk space transaction logs have taken up on your drive.
By submitting your email address, you agree to receive emails regarding relevant topic offers from TechTarget and its partners. You can withdraw your consent at any time. Contact TechTarget at 275 Grove Street, Newton, MA.
You also agree that your personal information may be transferred and processed in the United States, and that you have read and agree to the Terms of Use and the Privacy Policy.

Overview:
Call the agent like this:
http://www.mydomain.com/database.nsf/SearchAgent?OpenAgent&query=Ray,Ozzie
This searches the database for all documents with both the words "Ray" and "Ozzie".
The agent is doing a Search on the view SearchStories, which returns a document collection. The view is very simple, the first column is the date of the document (in this code it is called IssueDate) and the second one is the headline/title of the document. This allows you to search only a subset of documents in the database, if you don't want to allow certain system documents to show up in the search. This view is also used for the HREF link in the HTML code.
The agent loops through the collection, creating the HTML for later display on the result page and putting the HTML in an array. The first part of the HTML code contains a HTML comment, and this is what decides the sort order. By using , it will sort correctly on the date.
A QuickSort function is used to sort the array, and finally the result is displayed on the Web using print statements.
Note: I did not write the QuickSort function or the Replace function. Unfortunley I lost the information about the authors, but they deserve the credit for that code.

Code: Option Public
Option Base 1

Sub Initialize
 Const MaxHits = 250   ' Max number of hits
 Dim session As New NotesSession
 Dim db As NotesDatabase
 Dim collection As NotesDocumentCollection
 Dim view As NotesView
 Dim doc As NotesDocument
 Dim searchstring As String
 Dim result() As String 
 Dim i As Integer
 Dim j As Integer
	
 Set session = New NotesSession
 Set doc2 = session.DocumentContext
 URLstring = doc2.Request_Content(0)
 URLlength = Len(URLstring)
 ParamPos = Instr(URLstring, "query=") +6
 SearchString = Ucase(Mid(URLstring, ParamPos, URLlength-ParamPos+1))
 SearchString=strReplace(SearchString,"+","&")
	
 Set db=session.CurrentDatabase
 Set view = db.GetView( "SearchStories" )
 cnt = view.FTSearch(searchstring,2500)
	
 Print "<HTML><HEAD><TITLE>Search Results (" & cnt & " documents found)</TITLE></HEAD>"	
 Print "<BODY>"

' Here goes your HTML to display BEFORE the search results (footer)

 If cnt > maxHits Then
  Print |<FONT COLOR=#FF0000 SIZE=-2 FACE=Verdana,Arial,Helvetica STYLE="font-size: 10pt;
 font-weight: normal; font-family: Arial, Helvetica; text-decoration: none;"><B>| & Cnt & | 
articles found. Only the | & MaxHits & | first will be displayed.<BR>Change the search criteria
 to reduce the number of hits.</B></FONT><BR>|
 Else
  Print | <TABLE WIDTH=100% CELLPADDING=0 CELLSPACING=0 BORDER=0 BGCOLOR=#FDB505><TR><TD>
<FONT SIZE=+1 FACE="Arial, Helvetica" STYLE="font-size: 11pt; font-weight: bold; font-family: 
Arial, Helvetica; text-decoration: none;" COLOR=#DF4509><B>|
  Print "<IMG SRC=/worldupdateonline.nsf/blank.gif HEIGHT=1 WIDTH=3>" + Cnt +  " articles found
 containing " + strReplace(SearchString,"&",", ") 		
  Print "</B></FONT></TD></TR></TABLE>"
 End If	
 Set doc = view.GetFirstDocument
 ' Fix the search string, replace space and ampersand with comma
 searchstring = strReplace(searchstring," ","")
 searchstring = strReplace(searchstring,"&",",")
 Redim result(cnt)	
 For i = 1 To cnt       
  ' This database uses two different forms, Story and Announcement.
  ' Depending on the form, we need to display different fields.
  ' The HTML below need to be adjusted for your documents and the fields they contain.
  If doc.form(0)="Story" Then		
   result(i) = |<!--| & Year(doc.issuedate(0)) & "/" &  Format$(Month(doc.issuedate(0)),"00") 
& "/" &  Format$(Day(doc.issuedate(0)),"00") & |--><TABLE WIDTH=100% CELLPADDING=3 CELLSPACING=0 
BORDER=0><TR><TD WIDTH=60%><FONT SIZE=-2 FACE=Arial,Helvetica STYLE="font-size: 9pt; font-weight: normal; 
font-family: Arial, Helvetica; text-decoration: none;"><B><A HREF=/worldupdateonline.nsf/0/| 
& doc.UniversalID & "?OpenDocument&Highlight=" & searchstring & ">" & doc.Title(0) & |</A></B>
</FONT></TD><TD WIDTH=10% ALIGN=right><FONT SIZE=-2 FACE=Arial,Helvetica STYLE="font-size: 9pt;
 font-weight: normal; font-family: Arial, Helvetica; text-decoration: none;">| 
& Format$(Month
(doc.IssueDate(0)),"00") & "/" & Format$(Day(doc.IssueDate(0)),"00") & "/" & Format$(Year
(doc.IssueDate(0)),"0000") & |</FONT></TD><TD WIDTH=30% NOWRAP><FONT SIZE=-2 FACE=Arial,Helvetica
 STYLE="font-size: 9pt; font-weight: normal; font-family: Arial, Helvetica; text-decoration: none;">| 
& doc.Category(0) & "</FONT></TD></TR></TABLE>"
  Else
   result(i) = |<!--| & Year(doc.created) & "/" &  Month(doc.created) & "/" &  Day(doc.created)
 & |--><TABLE WIDTH=100% CELLPADDING=3 CELLSPACING=0 BORDER=0><TR><TD WIDTH=60%><FONT SIZE=-2 
FACE=Arial,Helvetica STYLE="font-size: 9pt; font-weight: normal; font-family: Arial, Helvetica; 
text-decoration: none;"><B><A HREF=/worldupdateonline.nsf/0/| & doc.UniversalID & "?OpenDocument&
Highlight=" & searchstring & ">" & doc.Title(0) & |</A></B></FONT></TD><TD WIDTH=10% ALIGN=right>
<FONT SIZE=-2 FACE=Arial,Helvetica STYLE="font-size: 9pt; font-weight: normal; font-family: Arial, 
Helvetica; text-decoration: none;">| & Format$(Month(doc.created),"00") & "/" & Format$
(Day(doc.created),"00") & "/" & Format$(Year(doc.created),"0000") & |</FONT></TD><TD WIDTH=30% NOWRAP>
<FONT SIZE=-2 FACE=Arial,Helvetica
 STYLE="font-size: 9pt; font-weight: normal; font-family: Arial, Helvetica; text-decoration: none;">
Announcement</FONT></TD></TR></TABLE>|
  End If
  Set doc = view.GetNextDocument(doc)
 Next

 ' Sort the HTML strings in the array.	
 Call quicksort(result, 1, cnt)
 j = i
 If cnt > MaxHits Then 
  cnt = MaxHits
 End If
 ' Print out the sorted array of HTML strings
 For i = cnt To 1 Step -1     
  Print  result(i)
 Next
	
 Print ""

 ' If more than a certain number of hits are returned, display a message.
 If cnt = MaxHits Then
  Print |<CENTER><FONT COLOR=#FF0000 SIZE=-2 FACE=Arial,Helvetica STYLE="font-size: 9pt; font-weight:
 normal; font-family: Arial, Helvetica; text-decoration: none;">More than | & MaxHits & | documents
 returned. Try to change the search criteria to reduce the number of hits.</FONT></CENTER>|
 End If

' Here goes your HTML to display AFTER the search results (footer)
	Print "</BODY></HTML>"
End Sub


Function strReplace(s As String, mita As String, milla As String) As String
 While Instr(s, mita) > 0
  s = Left$(s, Instr(s, mita) - 1) + milla + Right$(s, Len(s) - Instr(s, mita) - Len(mita) + 1)
 Wend
 strReplace = s
End Function 

Sub QuickSort(SortList As Variant, Byval First As Integer, Byval Last As Integer)
 Dim Low As Integer, High As Integer         'Use Integer for lists up to 32,767 entries.
 Dim Temp As Variant, TestElement As Variant 'Variant can handle any type of list.
 Low = First
 High = Last
 TestElement = SortList((First + Last) / 2)  'Select an element from the middle.
 Do
  Do While SortList(Low) < TestElement     'Find lowest element that is >= TestElement.
   Low = Low + 1
  Loop
  Do While SortList(High) > TestElement    'Find highest element that is <= TestElement.
   High = High - 1
  Loop
  If (Low <= High) Then             'If not done,
   Temp = SortList(Low)            ' Swap the elements.
   SortList(Low) = SortList(High)
   SortList(High) = Temp
   Low = Low + 1
   High = High - 1
  End If
 Loop While (Low <= High)
 If (First < High) Then Quicksort SortList, First, High
 If (Low < Last) Then Quicksort SortList, Low, Last
End Sub

Dig Deeper on Domino Resources - Part 7