Web table on the top left corner
Remove the blank space from the top of your Web pages.
Looking for something else?
Have you ever tried to put a table just after the <body> tag? (see code1) (That's the same for Domino or pure HTML). Viewing the page you will see a blank line before the table. That's annoying, especially if the table contains a navigation menu.

Download this free guide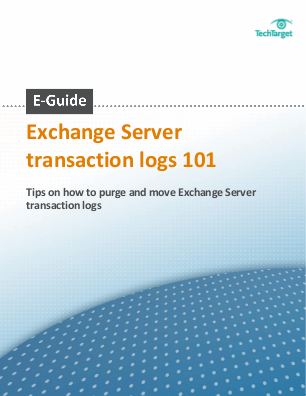 Download this strategic guide on moving Exchange Server transaction logs
Brush up on how log files have changed in Exchange to protect your setup against disaster, discover how to effectively purge transaction logs, and learn how to free up some of the disk space transaction logs have taken up on your drive.
By submitting your email address, you agree to receive emails regarding relevant topic offers from TechTarget and its partners. You can withdraw your consent at any time. Contact TechTarget at 275 Grove Street, Newton, MA.
You also agree that your personal information may be transferred and processed in the United States, and that you have read and agree to the Terms of Use and the Privacy Policy.

You can use pass-through html in pages, but it will give the same result. You can use "treat document/page content as HTML" property in form/pages, but then you will face others issues.
The solution I found snooping around is a very simple one:
using particulars BODY attributes.
leftmargin="0"
topmargin="0"
marginwidth="0"
marginheight="0"
I put the new attributes in the Domino "HTML Body attributes" section and now my table is positioned in the left and top corner.
See code2 .
Code 1:
<body >
<table border=1 >
<tr>
<td>r1c1</td><td>r1c2</td>
<tr>
<td>r2c1</td><td>r2c2</td>
</table>


Code2:
<body leftmargin="0" topmargin="0" marginwidth="0" marginheight="0">
<table border=1 >
<tr>
<td>r1c1</td><td>r1c2</td>
<tr>
<td>r2c1</td><td>r2c2</td>
</table>
Dig Deeper on Domino Resources