Webqueryopen JavaAgent for retrieving HTML code
Ever wondered how you could screen scrap any HTML page by just knowing the URL?
Looking for something else?
Ever wondered how you could create Yahoo stock charts, Yahoo News, or for that matter, screen scrapping any HTML page by just knowing the URL? Here's a Java agent which will do just that.

Download this free guide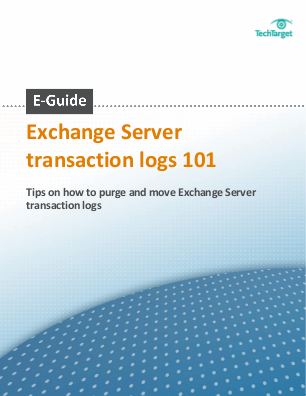 Download this strategic guide on moving Exchange Server transaction logs
Brush up on how log files have changed in Exchange to protect your setup against disaster, discover how to effectively purge transaction logs, and learn how to free up some of the disk space transaction logs have taken up on your drive.
By submitting your email address, you agree to receive emails regarding relevant topic offers from TechTarget and its partners. You can withdraw your consent at any time. Contact TechTarget at 275 Grove Street, Newton, MA.
You also agree that your personal information may be transferred and processed in the United States, and that you have read and agree to the Terms of Use and the Privacy Policy.

The following code can copied and pasted into a Java agent as it is. This agent can called using @command([toolsrunmacro]) in the webqueryopen event of a form. For this example, I have used a field called "A" . The field is passed through HTML by highlighting the field and selecting passthru html from the text menu. This is especially helpful in including header and footer to your domino based database from your Company Intranet which are done using non-Notes Web authoring tools.
import lotus.domino.*;
import java.net.*;
import java.io.*;
public class DisplayFooter extends AgentBase {

	public void NotesMain() {

		try {
			Session session = getSession();
			AgentContext agentContext = session.getAgentContext();
Document doc = agentContext.getDocumentContext();
URL url = new URL("myURL");
URLConnection conn = url.openConnection();
conn.connect();
InputStream is = conn.getInputStream();
BufferedInputStream bis = new BufferedInputStream(is);

StringBuffer buffer = new StringBuffer();
int nextChar = 0;

while((nextChar = bis.read()) != -1)
{
buffer.append((char)nextChar);
}
System.out.println(buffer.toString());
doc.replaceItemValue("B", buffer.toString());
is.close();
bis.close();
			
session.recycle();
agentContext.recycle();
		}

catch(MalformedURLException mal)
{
mal.printStackTrace();
}
catch(IOException ioe)
{
ioe.printStackTrace();
}
 catch(Exception e) {
			e.printStackTrace();
		}
	}
}
Dig Deeper on Domino Resources - Part 7