Creating Settings and Policy Documents:
You should now have a rudimentary understanding of the settings document and policy document types. You should also have a thorough understanding of the organizational groups that comprise your company and user community. You will need to know the settings to be applied to each of the organizational units within your company. Finally, you will need to have the Domino Administrator client installed with the appropriate access level to create policies.
To get started, you must be listed in the Domino Directory ACL and assigned, at a minimum, the [Policy Creator] and [Policy Modifier] roles. Complete the following steps to check your authority level. If you do not have this authority, you will need to work with a Domino administrator to obtain these roles.
Step 1. Locate the Domino Directory icon from your Notes client.
Step 2. Select the File -> Application -> Access Control menu option.
Step 3. Locate and click on your name. Verify you have the [Policy Creator] and [Policy Modifier] roles assigned to your ID (Figure 16).
Note: Some companies use group names to manage access. If your name does not appear in the ACL, you will need to review the group names by opening the Domino Directory and manually checking the groups listed in the ACL.
Step 4. Click OK to save the settings. You're now ready to start creating the policy documents.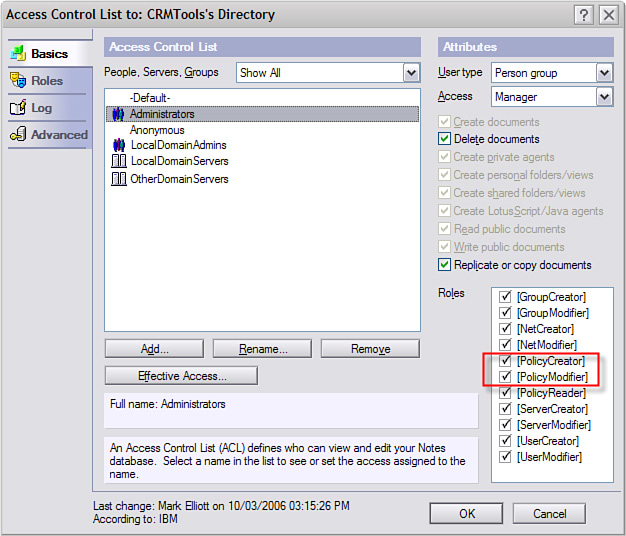 Figure 16. You must be assigned the Policy Creator and Policy Modifier roles in the ACL in order to manage policies.


Survival guide for Lotus Notes and Domino Administrators



Home: Introduction


Part 1: What are policies?


Part 2: How are policies implemented?


Part 3: What are settings documents?


Part 4: What is a policy architecture?


Part 5: Creating settings and policy documents


Part 6: Creating policy documents


Part 7: Registering a new user using an explicit policy


Part 8: Assigning an explicit policy to an existing user


Part 9: Using exception policies


Part 10: Viewing your policy settings

This chapter is an excerpt from the book, Survival Guide for Lotus Notes and Domino Administrators, authored by Mark Elliott, published by IBM Press, March 2009, ISBN 0137153317, Copyright 2009 by International Business Machines Corporation. All rights reserved. For more info, please visit the publisher site. Safari Books Online subscribers can also access the book at safari.com.

Click here for the chapter download.
This was first published in October 2009