Problem solve
Get help with specific problems with your technologies, process and projects.
Lotus makes mobile partnerships and Notes Traveler top priorities
IBM Lotus is making a move to consider mobility when revising and improving software tools. Support for Lotus Notes Traveler 8.5.1 on the iPhone and partnerships with RIM, Sprint and other carriers, prove IBM's dedication to the mobile market.
Software vendors have traditionally addressed the mobilization of Web-based technologies such as email, calendar, tasks, conferencing, collaboration, social software and forms-based applications as design afterthoughts. Most developers build for the desktop first and design for mobility afterward. This attitude is due in part to the piecemeal smartphone operating system market. Separate development and contracts per platform, Android, BlackBerry, iPhone, Symbian, and Windows Mobile, for example, make building solutions that run on smartphones both complex and difficult to manage. But software development firms have also been slow to dedicate mobility to their initial design process. Vendors like IBM Lotus have chosen mobile design partners, placing bets on industry leaders.
Last November , IBM Lotus and Nokia announced a partnership that provided Notes support on smartphones. In January 2009, IBM Lotus announced a partnership with RIM to bring more IBM Lotus technologies to BlackBerry devices. The RIM extensions would include support for Symphony files, Quickr and XPages, as well as a mobile chat and conferencing client in the upcoming Sametime 8.5 release, due later this year.
The volatility of the smartphone market has been a spoiler for software vendors, causing angst and catch-up work . The success of the iPhone in 2008 and the current rise in popularity of Google's Android devices have been disruptive to well-planned partnerships that were initially changing the ideals of which device was thought best for business needs.
Recent trends in mobility, including a rise in smartphone sales in early 2009, show an uptick in software vendor commitment to mobile interfaces for business applications. Expanding communication and collaboration capabilities, such as Lotus Symphony, Quickr, XPages and Sametime support on the BlackBerry not only add value to investments in IBM Lotus, but also RIM technologies.
Recent efforts to update the Notes client are evidence that Lotus considers mobility a high priority in the design process. The release of iNotes 8.5 Ultra-Lite client in January 2009 moves Notes Mail from the Web world and into the mobilized world.
Given the strong market growth for smartphones and increased demand from businesses to support mobilized users, it's likely we'll see increased dedication from IBM Lotus and other vendors to make designing for mobility a primary consideration when building future versions of software tools.
Expanding the reach of Lotus Notes Traveler
On October 6, 2009, IBM Lotus announced the release of IBM Lotus Notes Traveler 8.5.1 with native support for push email, synchronizing contact and calendar data, as well as features like remote wiping and directory look-up on the Apple iPhone. This release extends Lotus Notes' reach to "the full spectrum of proliferating mobile and Web-connected devices such as the Apple iPhone, Nokia smartphones, thin clients, laptops and desktops used to access corporate applications and business processes," said IBM in a press release. Expanding the reach of Notes Traveler to more devices not only makes it easier for businesses to support multiple device types, but also allows customers to centrally manage how email is used on those devices.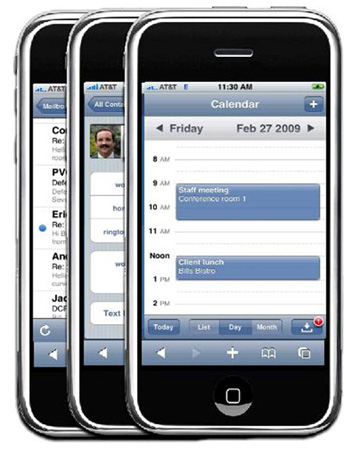 Figure 1: Lotus Notes Traveler 8.5.1 on an iPhone with inbox, contacts and calendar. (Source: IBM.com)
From a delivery perspective, IBM Lotus continues to garner support for Notes Traveler, expanding the mobility reach of Notes mail to Microsoft Windows, Nokia, Samsung and iPhone devices. The IBM Lotus Notes Traveler site also lists partnerships with major communications carriers, including AT&T, Sprint, Verizon and Orange (planned for the future). These partnerships are significant for customers who wish to work with existing wireless carriers instead of finding third parties to support Notes mail delivery to mobile devices.
Do you have comments on this article? Let us know.
Do you have a useful Lotus Notes/Domino technical tip or code snippet to share? Submit it to our monthly tip contest and you could win a prize.
ABOUT THE AUTHOR:
Karen Hobert
Karen is an IT industry research analyst focused on communication, collaboration, content management and social software technologies. She offers over 20 years of hands-on and market expertise to enterprises planning, designing, and deploying shared information systems. You can see more of her thoughts at Karen Hobert's Connecting Dots blog.