News
Stay informed about the latest enterprise technology news and product updates.
Where is IBM Lotus going with Workplace?
Workplace was the big news in the world of IBM Lotus in 2004. A Q&A with Gartner's Tom Austin helps illuminate this 'star in the making.
I can understand Notes/Domino customers being confused. Should they be nervous as well?
What IBM/Lotus has announced makes people nervous. They see a new technology stream, and that means potentially traumatic change. But I think IBM will do a lot to minimize that trauma. How likely is it that Notes/Domino customers will consider moving to another messaging platform?
The likelihood that a majority of current users are considering alternatives is high. But the likelihood of these customers leaving en masse is low. The preponderance of calls we get from clients who are Lotus customers consist of, "Should we consider switching?" Just about any company that has a large messaging implementation, whether it's based on Domino, Notes, Groupwise or Exchange, these implementations are all rolled out. People are not going to pull up stakes and change their messaging infrastructures overnight. It took companies years to move off PROFS and All-in-One.

Download this free guide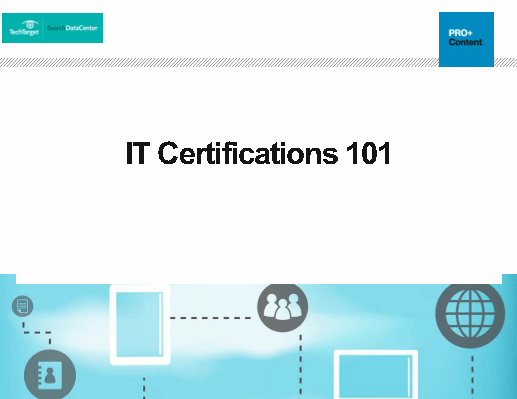 Download: IT Certifications 101
Inside this exclusive essential guide, our independent experts break down which IT certifications are worth your time and effort, and how to get started obtaining them to further your career— including specific certifications that any cloud or desktop pro should seriously consider.

By submitting your personal information, you agree that TechTarget and its partners may contact you regarding relevant content, products and special offers.

You also agree that your personal information may be transferred and processed in the United States, and that you have read and agree to the Terms of Use and the Privacy Policy.

But if you look at the people who have built lots of Notes applications, they're probably a lot more nervous than the people with messaging systems.

Is that because IBM has abandoned LotusScript?
LotusScript is still being supported, and IBM has essentially said that in some ways, we'll support it for a long time, but not aggressively over the long term. IBM's direction is the Eclipse development framework, and J2EE and Java. For people who are working today with Lotus Notes, there's no way to sugarcoat this. It's a major transition. You said earlier that IBM will do a lot to minimize the trauma involved with this migration. What specifically should they do?
IBM has a responsibility to establish a much more credible plan to reduce the FUD they're created. In the meantime, Microsoft and others have been pouring gasoline on top of this smoldering fire IBM has created. IBM has to clarify this picture in the next six months, and clarification is not just a revised story. IBM has to respond to what we're speculating, not just that Notes is going away, but that the v8 (or v9) version of Notes, based on Workplace, will provide the tools to carry forward the client-side capability with Notes. That, in turn, will open up the set of assumptions that IBM will be providing the tools to migrate from v8 to v9. Basically, IBM will need to make interim payments against the debt they're going to be incurring. They haven't done that yet. You've covered the Notes arena since 1994. Why was Microsoft never able to steamroll over Notes, as they had with Excel and 1-2-3?
Excel achieved feature parity in some areas and significant improvement beyond 1-2-3 in other areas. The bottom line was that Microsoft trumped Lotus not just in marketing but in building better product. Lotus got suckered into hitching up to OS/2 and Presentation Manager, even though it was clear to everyone in the marketplace back in 1989 that Microsoft's priority with ISVs with first and foremost Windows, and then OS/2. But Lotus followed IBM with OS/2, and OS/2 became part of the dustbin of history.

But with Notes, Microsoft decided -- for better or worse -- to take the fight to Lotus over the bigger marketing opportunity, which was messaging, rather than engage in a battle over the deeper functionality of a groupware package with development capabilities. Not only did Microsoft decide not to compete with Notes on functional breadth, they even publicly admitted, "We're not as good as Notes, but we're just trying to deliver a better messaging platform." By that time, IBM had bought Notes and they were able to exploit that.

The thing is, Microsoft still doesn't deliver the kinds of capabilities comparable to Notes/Domino. In 1995-96, when Outlook was still in beta, Microsoft knew that one of its weaknesses was the lack of a powerful search capability. Nine years later, it still doesn't have it. This year, Microsoft had to go out and finally buy the technology from a startup called Lookout. You seem to be hinting that IBM is safe from Microsoft preying on its Notes/Domino base?
Microsoft used to be totally opportunistic. In the late 1980s, when Microsoft was looking at competing with all-encompassing suites like Framework from Ashton-Tate and Symphony from Lotus, it decided to go out and buy the technology, which became Works. Microsoft then sold Works at price points designed to clobber the competition. Works wasn't even compatible with Excel, only 1-2-3, so Microsoft took the risk of cannibalizing Excel sales to grab the market. But they did. Works thrived, and Framework and Symphony died.

Now, fast forward to Outlook and Exchange and Notes. Instead of building the best competitor to Notes, Microsoft is trying to leverage the .NET architecture. Microsoft used to be opportunistic, but today they're architecture-bound, and their goal of having architectural purity, having parity across all their products, has slowed them down in terms of their ability to compete.

Microsoft has been slowed down in competing with IBM/Lotus. They've gotten focused on being architecturally pure, fitting it with the corporate infrastructure, rather than being expedient and offering what's best in a particular space as fast as they can. And I don't see signs of the pendulum swinging back. IBM is the more opportunistic of the two companies now. IBM is willing to introduce little pieces that fit their new architectural vision for Workplace, rather than waiting to have the whole architecture done. IBM is willing to take a short-term hit in terms of PR and existing customers to build a new position in marketplace. If you had asked me 10 years ago if I would ever be saying these things about IBM vs. Microsoft, I'd have said, "Hell, no!" How has customer acceptance been of the piece of Workplace that have arrived?
Acceptance has been low, but that's to be expected. I suspect that IBM's real internal expectations are consistent with that low level of acceptance. It's a very early stage. IBM Workplace products can't and won't match Notes/Domino products in specific richness for years.

IBM's Workplace strategy is still evolving. It's been coming out piecemeal. It's not like this pronouncement from on high, like Moses with the Ten Commandments, or like in the early 1990s when IBM came out with its grand strategy and then its engineers had to get busy trying to implement it. IBM's Workplace strategy is bottom-up sideways. But they're almost where they've got the whole thing laid out.

The more successful the IBM Workplace family is, the more IBM will invest in tools to help customers migrate Notes/Domino applications to IBM Workplace. Lotus customers have several options today for moving their Notes and Domino applications to Workplace's J2EE architecture. They can display the applications as Web portlets in a browser or convert them manually. How viable are these options?
My advice to any current client who's building in these technologies is this: If you're got an actionable business justification with a three-year payback, don't stop. But as IBM lays out its strategy, you've got to look for things with Notes that won't work in the long term. You've got to plan on some things being orphans. But most Lotus Notes/Domino users should stay the course. An immediate jump to anything else makes little sense if your Notes/Domino investment was properly justified in the first place.

A large portion of anything development-related in Notes will carry forward, and the capabilities you know and love today will be there, but the underlying architecture will be completely different. You'll have the same nice offline and online operation, but the technology through which IBM delivers it will be completely different.

On the other hand, Domino will be enhanced bit by bit by bit over the next generation. Since it's my job to speculate, I see two things in store for Domino. First of all, users will be able to host Domino on top of DB2 or any RDBMS. Secondly, they'll be able to encapsulate Domino applications as Web services. Web services, constructed using Domino, will be available in Eclipse, but Domino will not be rebuilt on top of WebSphere.

For people invested in Domino development, consider CICS. People wrote off CICS 10 years ago, but it's still alive and kicking. Maintenance releases continually appear. In five or ten years, I see Domino at the same stage as CICs is today -- a relatively stable model.
Dig Deeper on Domino Resources - Part 4