News
Stay informed about the latest enterprise technology news and product updates.
WebSphere: Tony Higham answers your questions
A recent live discussion, "Best Practices for WebSphere," generated so many questions from audience members that not all could be answered by the end of the event. But guest speaker Tony Higham, director of IBM Technologies at RareMedium, provided answers later. His answers and the questions are good enough to share. Higham specializes in the design and delivery of e-business solutions. He has 20 years of industry experience, including three years at Lotus as a lead architect and developer. He has developed numerous e-business applications for Lotus, IBM and many business partners. Here searchDomino poses the questions for participants.
Audience member: Running Websphere on top of Domino, how do you counteract skeptics who, when they have the first sign of problems, blame Domino as the underlying cause and want a separate Web server, such as Apache?
People who don't understand Domino will always find a way to blame it for apparently doing something wrong. My stance on this is to explain to them that Domino brings very unique collaboration features to the table which are absolutely not available in any other Web server. I also agree that it's best to keep the number of servers down to a minimum. When integrating Domino and WebSphere you only have two choices: Domino or IIS. Even IB's HTTP Server does not work with Domino, so you've only got those choices. The key thing with the Domino HTTP stack is that is has, or at least had, known scalability issues. Compare this with IIS which is super-fast and reliable and there's no contest. However if you're not hosting a high-volume public Web site, this discussion becomes very academic. Please feel free to call me if further information is required. Audience member: Why use Corba as opposed to Dominos JDBC and Servlets?
Corba gives you access to a remote Domino server. JDBC gives you access to relational data and servlets can use CORBA to access a remote Domino server. Audience member: What is level of integration with Oracle or open source data bases such as MySQL or PostGreSql?
See www.ibm.com/websphere. At this point I think you're limited to popular supported database products only. If you're using WebSphere and have invested $10,000 per CPU on it, you're unlikely to be using a freeware database. Audience member: What's the best way to pass information from Websphere to Domino database agents?
This is a tough question. Just use the Java interface to access Domino objects. I will be presenting on this at the Domino Developers conference Oct. 3-5 New Orleans. Audience member: How do I call a WebSphere servlet from a background LotusScript agent?
It's not possible without networking extensions to LotusScript. You can call a Java servlet from a Java agent though (background too.) Audience member: Would Websphere scale better without interacting with a Domino database?
That depends on what you define as "interacting." If you mean using Domino as the main repository of all the data for the application experience, thus treating Domino as a relational database, I would say that it would scale better without Domino. Audience member: What OS platform do you recommend?
Whatever your operations folks, or you for that matter, are best trained to support. Honestly there is so little difference these days. Before Windows 2000, a case could be made that UNIX would be more stable and scalable than a Windows platform, but not anymore. That UNIX is more scalable than Windows 2000 is a myth and a perception only. Audience member: From a WAS servlet, how do I call Domino services, what's the API, and where do I get it?
Basically you include the Notes.jar file (in the Domino directory) on your CLASSPATH to access the Domino classes. Then you have access to the lotus.domino package which you can import in your servlet. From there it is just a matter of understanding how to use the Java API to get a session, a database, a document etc., just like you do in LotusScript. E-mail me a tony.higham@raremedium.com and I'll send you an example. Audience member: Is Domino going to be replaced by Websphere in 2003?
I can't speak for Lotus, sorry don't know. Audience member: Can we install Domino and Websphere in the same computer?
Yes, absolutely. Audience member: Do I need Websphere with Domino if all my apps remain on an intranet?
It depends on how big your intranet is. If you're GE and have 200,000 concurrent users, then likely, yes. You may also want to take advantage of other technologies available in Java that make integration with other systems easier, or just want to go to a true standard-based application development approach. Audience member: Can you use files compiled under JDK 1.3 (jar and class files) with Websphere 3.5 and Domino R5 successfully?
Yes. Audience member: Are there white papers to explain hardware/system requirements for implementing Websphere and Domino and the configuration issues?
I would check the www.ibm.com/redbooks site for this. Audience member: What additional hardware requirements does Websphere (WAS) put on Domino in order to complement it?
Memory, memory and memory. At least 512 Mbytes. Audience member: Should I start out learning C or C++ or can I just jump into Java?
Go right to Java. Audience member: What are the good sources of information on Websphere on the AS/400? Particularly performance considerations.
You can try search400.com, or The View magazine. Audience member: We have Domino and a mainframe running VSE/ESA with most of our data in VSAM files. Can Websphere provide access to data on the mainframe?
Yes, absolutely. Audience member: How can we leverage Single Sign On between Domino/WebSphere and reporting utility like Cognos?
Yes, single sign-on works, but I have no idea what Cognos is, sorry. Audience member: So Domino agents use 1.1.7, while plugging in a java app server lets you use 1.2 or even 1.3 (e.g Weblogic, but not Websphere?)
No, any assets that under the app server (servlets, JSPs, EJBs etc), get to use the capabilities of the JVM supported by the app. Server. However things that run only under Domino (Java agents) are stuck with 1.1.7.

Download this free guide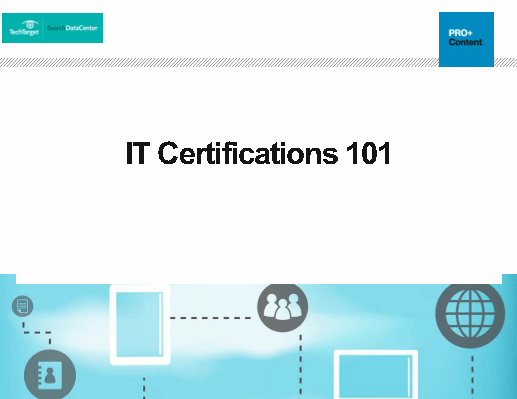 Download: IT Certifications 101
Inside this exclusive essential guide, our independent experts break down which IT certifications are worth your time and effort, and how to get started obtaining them to further your career— including specific certifications that any cloud or desktop pro should seriously consider.
MORE INFORMATION ON THIS TOPIC:
More on Webshere may be found at this Best Domino Web Links site: Web links
Dig Deeper on IBM WebSphere