Manage
Learn to apply best practices and optimize your operations.
Batch file runs scheduled Lotus Notes database maintenance tasks
After encountering problems with a large Lotus Notes database, Brian Graham developed this hands-off solution. He created a batch file that runs several Lotus Notes database management tasks while your Lotus Domino server is offline.
After dealing with numerous issues with a large and problematic Lotus Notes database, I contacted IBM. They instructed me to run a Compact –c -i, Fixup -F, Updall -X, and Updall -R (in that order) with our Lotus Domino server offline.
Related resources from SearchDomino.com:
Batch file backs up all active-state BlackBerry databases
This seemed like a lot of work, so I developed a hands-off approach. I created a simple batch file to shut down the Lotus Domino server, run these tasks and restart the server.
I receive notifications on my cell phone when a Domino server goes offline. Therefore, I know when the maintenance tasks start. I'm notified again when the server is back online.
In our environment, the Domino server is installed at D: LotusDomino. Here is the batch file: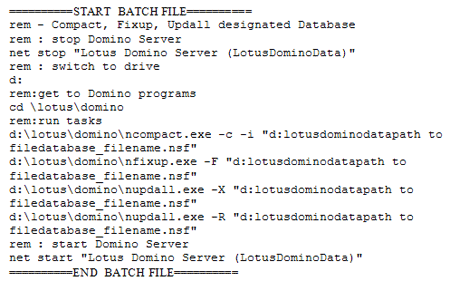 (Click on code for enlarged view and script download.)
You'll need to modify this so that it points to your Lotus Notes database. You also must also verify that your server service is named so that both the net stop and net start work properly.
Once the batch file is created, go to "Scheduled Tasks" in the Control Panel, add the new task, point to the batch file, and schedule when you want the maintenance to run.
Do you have comments on this tip? Let us know.
This tip was submitted to the SearchDomino.com tip library by member Brian Graham. Please let others know how useful it is via the rating scale below. Do you have a useful Lotus Notes, Domino, Workplace or WebSphere tip or code snippet to share? Submit it to our monthly tip contest and you could win a prize.

Dig Deeper on Lotus Notes Domino Database Management