Manage
Learn to apply best practices and optimize your operations.
Display Lotus Notes user group membership details in a tree view
Determining which groups a Lotus Notes user belongs to is important, but difficult if you don't have access to the proper databases. This tip explains how to display a tree view of the groups and nested groups to which a user belongs with just the click of a button.
It's often necessary for the first level of support in a Lotus Notes/Domino environment to get a quick overview of the groups and databases to which a Lotus Notes user belongs. But this may cause a problem if that support level is without access to the problem database and without an administration client.
Access control lists (ACLs) in Lotus Notes databases mostly contain groups. Let's assume, however, that we want to determine to which group a specific Notes user belongs.
This form shows a tree view of all the groups and nested groups that a user belongs to (see code in first button) as well as the databases that these groups can access (see code in second button ). In just two clicks, you can retrieve the information that you need.
Before doing this, we must create an additional view in the catalog.nsf: "Access Control Lists All\By Name," with the following viewselection: SELECT @IsAvailable(ReplicaID)& @IsUnavailable(RepositoryType). This shows all databases.
For example, on a role: [Support] The form:
Access over a role like "[Support]". 
Formulas inherit values from selected document 
Automatically enable Edit Mode 

Fields (computed): 
Fullname: Fullname:Listname 
FullNameShort: @Name([CN]; @Subset(Fullname;1)) 
Gruppen_aktuell_1: Gruppen_aktuell_1 
FullNamelong: @Name([Canonicalize]; @Subset(Fullname;1)) 
Gruppen_aktuell: the results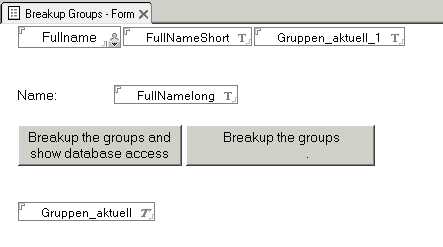 The first button contains the following script:


(Click on code for enlarged view and script download.)
The second button contains following script:


(Click on code for enlarged view and script download.)
Do you have comments on this tip? Let us know.
This tip was submitted to the SearchDomino.com tip library by member Martin Leussner. Please let others know how useful it is via the rating scale below. Do you have a useful Lotus Notes, Domino, Workplace or WebSphere tip or code snippet to share? Submit it to our monthly tip contest and you could win a prize.
Related resources from SearchDomino.com:
Fix and update Lotus Notes documents with limited access