Manage
Learn to apply best practices and optimize your operations.
Domino Users: Too Soon for ASP?
This is part one of a two-part series on ASPs.
Lotus wants you to have its collaborative products, even if you can't afford them. The company recently announced its plans to enter the rapidly growing Application Service Provider (ASP) market, where, instead of buying its software outright, businesses can rent applications through a service provider.

Download this free guide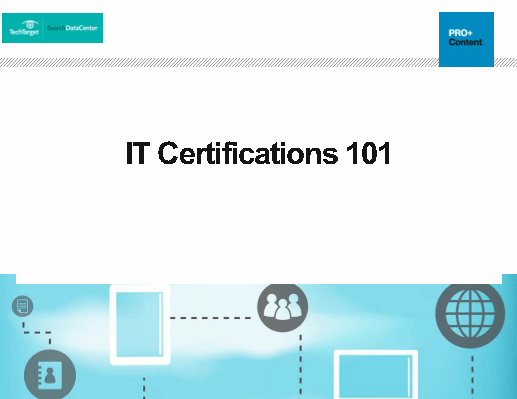 Download: IT Certifications 101
Inside this exclusive essential guide, our independent experts break down which IT certifications are worth your time and effort, and how to get started obtaining them to further your career— including specific certifications that any cloud or desktop pro should seriously consider.
By submitting your personal information, you agree that TechTarget and its partners may contact you regarding relevant content, products and special offers.
You also agree that your personal information may be transferred and processed in the United States, and that you have read and agree to the Terms of Use and the Privacy Policy.
Hosted applications are nothing new. ASP Interliant Inc. for example, has hosted Notes for its clients for more than four years. But end-users have traditionally owned their Lotus applications, both in-house and out; now they will be able to pay a per-user fee for programs hosted on shared servers. Small and mid-size businesses will find that Lotus Notes and other collaborative tools are suddenly within reach.
"It's a great opportunity for small and medium-size businesses that have been lacking the means to acquire our software," says Bill Bliss, director of hosted applications marketing at Lotus. "A company with 200 employees is not likely to build systems in-house that support sales force automation and customer service applications."
Lotus will make Domino, Notes and collaborative tools like Quickplace and Sametime available for rent through ASPs like Interliant, Net Aspects and Prominic.NET Inc. Lotus claims that several independent software vendors (ISVs) have also embraced the program. ASPs will use Lotus' ASP Solution Pack, based on the Lotus Hosting Management System (LHMS), to manage and track their clients' software usage and billing, and ISVs will use the LHMS Software Developers Kit to make their applications "hosting ready."

Who benefits?
Large and fast-growing companies may also benefit from the renting option. Fast growers stand to gain from the rapid deployment and steady maintenance of new applications. Large companies can use ASPs to manage IT staff shortages, scale application usage and adapt quickly to marketplace changes.
But large businesses also have more to lose, and they should enter the ASP market cautiously. Analysts predict a heavy shakeout in the ASP market through 2001 -- GartnerGroup says 60 percent of today's ASPs will be gone by the end of next year -- of the 500 or so service providers that exist today. And while Giga Information Group says the ASP business will reach $1.64 billion by the end of the year, the market will also become highly segmented.
Buyers are still grasping how ASP relationships will impact their business models. "Knowledge [of ASP offerings] is still very low, varying across IT professionals and corporate officer buyers," writes IDC analyst Clare Gillan, in her September 2000 bulletin, Embracing ASPs or Not: IT Professionals vs. Corporate Executives. More corporate officers than IT professionals actually understand the term "ASP," Gillan says, and they are more eager than techies to do business with ASPs.
Does IT fear a diminished profile under ASP regimes? "I haven't met an IT person yet that expects ASPs to put him out work," says Lotus' Bliss. "If anything, they'd rather outsource their administrative work and focus more on projects."
Still, IT is right to offer some resistance to ASPs. "If I were a CIO, I'd definitely start with low-risk applications [like simple messaging], that are not mission-critical, or hooked into legacy data," advises Bliss. "Like any market, this one is going to take some time to mature."

1. https://searchdomino.techtarget.com/
From here, you can deep-link to descriptions of Lotus' ASP Solution Pack, its
development platform for Domino and WebSphere applications. You can also check out
SearchASP.com, an ASP-specific portal, from TechTarget.com, the creators of
SearchDomino.com.

2. Lotus ASP Solution Pack: Ride the current, not the wave http://www.searchdomino.com/searchDomino_Original_Content_Item/0,1410,341585,00.html?Exclusive=True .
SearchDomino.com and SearchASP.com delve into outsourcing and ASP trends
with Lotus' Bill Bliss and Aberdeen Group analyst Lew Hollerbach.

3. ASP Outsourcing Center
http://www.asp-outsourcing-center.com .
Here are some how-to's, news and analysis for businesses considering ASPs
from ERP to e-commerce.

4. When the Internet Becomes the Computer
http://www.aspnews.com/analysis/analyst_cols/article/0,2350,4431_477971,00.html .
This ASP News business primer addresses the trends driving the ASP
marketplace and the challenges to businesses and developers.

5. AS/400 Shop Burned by ASP
http://www.as400network.com/nwn/story.cfm?ID=8069 .
Not every ASP story has a happy ending. In this article from the AS/400
Network, Read how clothing maker OshKosh B'Gosh's ASP went belly up, and
left the clothier hanging by its suspenders.

Mark Baard, is a contributing editor in Milton, Mass.

Dig Deeper on Domino Resources - Part 4