How to turn off the message recall feature in Lotus Notes 8
Learn more about the message recall feature in Lotus Notes Domino 8.x, how to turn it off and how to hide the button completely.
Message recall is a new feature in Lotus Notes 8.x, but not every Lotus Notes/Domino environment has to activate it. If you decide that the message recall option isn't right for your organization, expert Andy Pedisich explains how to turn it off and how to hide the Recall Message button from your users.
---
The message recall feature in Lotus Notes 8 is great for certain situations. For example, sometimes I'll send an email that is supposed to contain an attachment, but I forget to attach the file. I usually realize this after clicking the Send button. Recalling a message is useful in this situation.
But after speaking with several Notes/Domino administrators at Fortune 500 companies, I understand that message recall isn't for everyone.
There are two steps to disabling the message recall function. First, you should prevent Domino servers from being able to recall a message. Second, you must completely remove the Recall Message button, which normally appears in the Sent folder. This will stop users from calling help desk when the button doesn't work.


Figure 1. The Recall Message button.
If you don't want to use message recall, there can be issues if:
Your Notes clients are running release 8.x, using the MAIL8.NTF or some variation of the template.
Your Domino server is running release 8.x and you're not using a server configuration document to specifically disable message recall.
You are not using mail policies that prevent message recall.
If all three of these statements are true, message recall is turned on by default and users can recall messages sent to other Notes users for up to 14 days ago.
To disable message recall on a Domino server, you must use a server configuration document (Figure 2). This can be the default server configuration document, one that applies to a group of servers or a configuration document specifically for that particular server.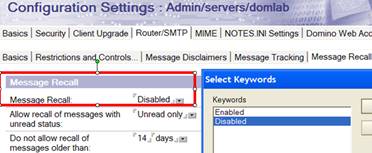 Figure 2: Disable message recall in the Router/SMTP -> Message Recall tab.
However, removing the Message Recall button from the Sent view in the mail file requires the use of a mail policy settings document and a policy document.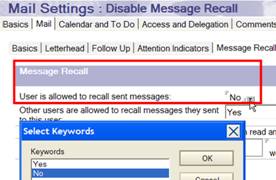 Figure 3. Removing the Message Recall button.
If you're not rolling out message recall at all, it's best to apply this mail policy settings document and then apply it to a policy document at the organizational level. This will ensure that no one sees the Mail Recall button.
Keep in mind that the administration process (adminP) checks for mail policy updates every 12 hours. If there are changes, adminP will update mail files according to your configuration. If you want changes to happen immediately, use the following console command on each mail server:
Tell adminp process mail policy

You can also use the short version of this command:
Tell adminp p ma

Do you have comments on this tip? Let us know.
Please let others know how useful it is via the rating scale below. Do you have a useful Lotus Notes/Domino tip or code snippet to share? Submit it to our monthly tip contest and you could win a prize.
ABOUT THE AUTHOR:
Andy Pedisich is President of Technotics, Inc. He has been working with Lotus Notes and Domino since Release 2. Technotics provides strategic consulting, development and training on collaborative infrastructure projects for customers throughout the world. You can contact Technotics through their website at www.technotics.com and read Andy's blog at http://www.andypedisich.com.
Dig Deeper on Lotus Notes Domino User Settings