JavaScript creates a jump box on a Lotus Notes Web form
If you want to give Lotus Notes/Domino users an easy method to jump to other pages on a website, follow these steps using JavaScript code to create a jump box in a Lotus Notes Web form.
Lotus Notes users can jump to other pages on a website using a drop-down menu you created using this JavaScript. This tip explains the steps to embed the JavaScript code into a Notes/Domino Web form.
Create a class for jump box contents in a CSS stylesheet. This visually integrates it into your form design. In my example, I named the class "jump."
Create a <form> tag and name it. I named my tag "jump1."
Produce a <select> tag that explains what to do when you select an item from the drop-down box.
Build your drop-down list in which each item consists of an <option> tag. This will tell your browser where to go and the drop-down item link text associated with it.
Start the list with the default value you'd like to display in the jump box. For instance, my default value is "Jump to Section." Note: The default value will not have a URL associated with it.
After you've created your dropdown list, close the </select> tag and then close the </form> tag.
Note: If you plan to use your jump box in more than one form, you can also put it in a subform.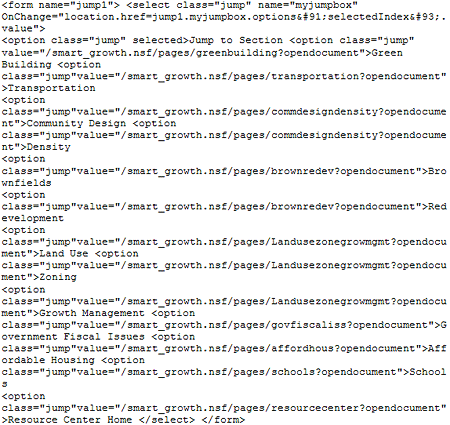 (Click on code for enlarged view and script download.)
Do you have comments on this tip? Let us know.
This tip was submitted to the SearchDomino.com tip library by member Helana Neumann. Please let others know how useful it is via the rating scale below. Do you have a useful Lotus Notes/Domino technical tip or code snippet to share? Submit it to our monthly tip contest and you could win a prize.