Manage
Learn to apply best practices and optimize your operations.
Launch large attachments within an email from a Notes database
Lotus Notes administrators can use this LotusScript code in a button, that is placed in an email message to open attachments stored within a database.
Lotus Notes administrators often get aggravated when users send company-wide email messages with large attachments. Many organizations send these messages from a file repository and Help databases, which send a doclink back to the repository database where the attachment resides.

This method usually requires the end user to click on the doclink, navigate to the attachment and open it from the database. I decided to eliminate the doclink portion from the email and provide users with a button to open the attachment. This can save time and space, and even increase productivity.

To accomplish this, you'll need:
Two forms

LotusScript code embedded in a button, which will be placed in the email
Next, follow these simple steps:
Create or use an existing Lotus Notes database that allows you to store attachments in a form. For example, I created a rich-text field called "body" on a Help form.

Create the second form, which I called "faLaunchAttachment" in my code with a single rich-text field on it. This field was called "launch_attachment."

Click on the form properties. The third tab has an auto-launch field. Select "First Attachment."

Create and save the document in your Notes database with an attachment inserted into the "body" field. Next, create a LotusScript hotspot button and insert the code provided below.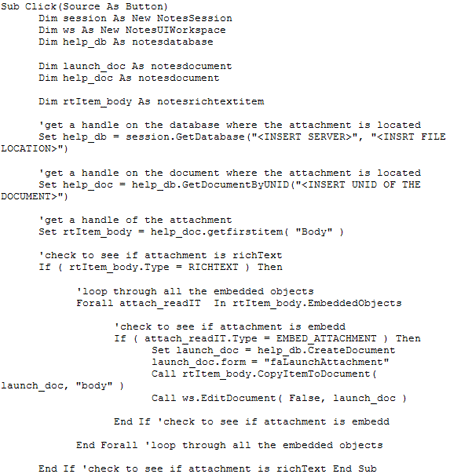 (Click on code for enlarged view and script download.)
The code in this tip will only launch the first attachment. If the document has more than one attachment, users won't be able to access those.
—Farroukh I.
Do you have comments on this tip? Let us know.
This tip was submitted to the SearchDomino.com tip library by member Bob Gouin. Please let others know how useful it is via the rating scale below. Do you have a useful Lotus Notes, Domino, Workplace or WebSphere tip or code snippet to share? Submit it to our monthly tip contest and you could win a prize.