Problem solve
Get help with specific problems with your technologies, process and projects.
Lotus Certification
Certification may not be everything to everyone but it can be a good skills gauge and a resume booster.
Software consultant Frank Truslow spent seven years, and seven hot Washington, D.C. summers, building a career as a Lotus Notes/Domino developer. He has scripted Notes applications for the U.S. Department of Housing and Urban Development, and wielded his LotusScript and formula language skills for Dominion Semiconductor, Inc., a Manassas, Va.-based Toshiba subsidiary with 1,100 employees.

Download this free guide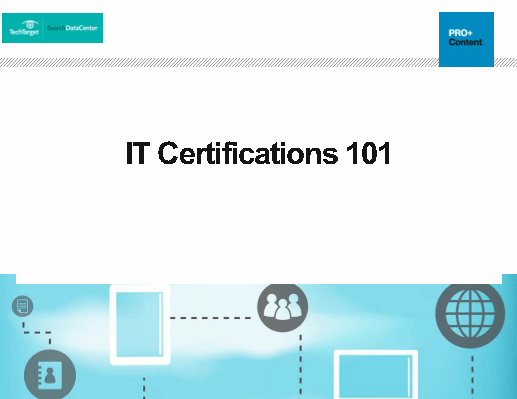 Download: IT Certifications 101
Inside this exclusive essential guide, our independent experts break down which IT certifications are worth your time and effort, and how to get started obtaining them to further your career— including specific certifications that any cloud or desktop pro should seriously consider.
By submitting your personal information, you agree that TechTarget and its partners may contact you regarding relevant content, products and special offers.
You also agree that your personal information may be transferred and processed in the United States, and that you have read and agree to the Terms of Use and the Privacy Policy.
Truslow's passion for all things Notes/Domino keeps him going. "I've found that if you really understand and love Notes, your attitude is going to be infectious, and you can accomplish great things," he says.
But Truslow also credits his ranking as a Certified Lotus Professional (CLP) for the US$120 an hour he rakes in as the sole proprietor of Rent-A-Geek Inc. "Certification isn't everything," but it's a great place to start, especially if you're new to Notes," he says.
It may not be everything to everyone who works with Lotus Notes/Domino, but certification can be a good skills gauge and a resume booster. Certification "can be a good tool to keep current," Truslow says. "Say you've been using R4, and you get laid off. If you have R5 certification, that's a great thing to bring to the table when you go for your next job."
Truslow's own success -- he's notched most of the tests for Notes/Domino R3 and R4 -- is typical. Developers with high-level, Principle CLP (PCLP) R4 certification earn 14% more than the industry average, according to SearchDomino.com's Interactive Salary Survey. Those with PCLP R5 certificates make 17% more. Even developers with the lowest ranking, Certified Lotus Specialist (CLS), bring home US$67,000 annually, 9% over the industry average.
When it comes to hiring, many employers take certification seriously. "I think that certification helps to show your expertise, but certification does indicate a base level of knowledge and a level of commitment to education," says Dave Hatter, author of the book CLP Fast Track: Lotus Notes/Domino 5 Application Development (New Riders, Nov. 2000) and a senior consultant at Eviciti, Inc.
A white paper entitled Benefits and productivity gains through IT certification, prepared by Framingham, Mass.-based research firm IDC, for Lotus, Microsoft, Sybase, Inc. and Sylvan Prometric (now Prometric Thomson Learning), finds greater knowledge and increased productivity among certified professionals. IDC surveyed 253 IT managers for the paper; 92% of them say they've "realized all or some of the benefits they expected from their certified employees."
Whether all or some Lotus developers and administrators should get certified is often the subject of debate. "I believe that [those certified in application development] are more valuable because there seems to be less people who are qualified developers than administrators," Hatter says. "Development skills are also harder to gauge in an interview."
But which certification path should a developer or an administrator take? For R5 Principal CLP (PCLP) certification (the highest-ranking), Lotus offers developers the choice of four different specialties: LotusScript, JavaScript, Java and LEI.
"LotusScript and JavaScript should be at the top of most people's lists," Truslow.says. "If you're developing for clients and/or the Web, definitely go with the LotusScript [PCLP] test. If you're developing strictly for the Web, take the Java test." (Lotus offers just one PCLP test to administrators: "Performance Tuning a Domino R5 Infrastructure.")
As for test-taking technique, Truslow can offer first-timers little solace. Current R3 and R4 certificate holders may find the R5 test a little easier than its predecessors, however. "I think that the [Lotus CLP] tests have been getting progressively easier," he says. "But you still need a deep understanding of Notes/Domino to pass any of them."
Links we like:
CLP Fast Track: Lotus Notes/Domino 5 Application Development (New Riders, Nov. 2000), by Dave Hatter and Tim Bankes. Developers and System Administrators (who also benefit greatly from certification) can order this book and others that will help ensure your success.
http://www.digitalguru.com/dgstore/product.asp?isbn=0735708789∾_id=60
A look at whether certification is worthwhile. (searchDomino)
https://searchdomino.techtarget.com/news/750074/Certification-Is-it-worth-the-pain
SearchDomino.com Live Event. SearchDomino.com's Live Expert Q&A chat on certification with Dave Hatter and Tim Bankes answers many questions on certification.
https://www.bitpipe.com/
SearchDomino's exclusive Domino/Notes salary survey
https://searchdomino.techtarget.com/news/540096/Domino-pros-happy-but-open-to-new-jobs-survey-finds
SearchDomino's certification section.
https://searchdomino.techtarget.com/
A searchDomino.com career tip: To certify or not to certify?
http://www.searchDomino.com/tip/1,289483,sid4_gci10469,00.html
Lotus' Certification home page is chock full of the exam preparation charts and guides you'll need to pass the developer and administrator tests.
http://www.lotus.com/home.nsf/welcome/certification
A white paper on the Lotus Web site: Benefits and productivity gains through IT certification
http://www.lotus.com/services/education.nsf/frame?OpenForm&/services/education.nsf/allpublic/667AD2AEEEA340FA852565610060E074
Frank Truslow recommends Self Test Software Inc.'s sample Lotus certification tests. "No other practice tests come as close to the real thing," he says.
http://www.selftestsoftware.com/lotus
Mark Baard is a contributing writer based in Milton, Mass.

Dig Deeper on Domino Resources