Manage
Learn to apply best practices and optimize your operations.
Mimic Lotus Notes Domino application functionality on the Web
Creating Lotus Notes applications that perform the same on the Web can be tricky. Domino developers can easily do so with this JavaScript and HTML.
Lotus Notes Domino developers often want to replicate how applications work within Lotus Notes on an external website. Programmers commonly make extremely large validation and hidewhen routines that place hide and validation logic in the JavaScript header. This can be cumbersome, especially with Lotus Notes forms with hundreds of inputs and tabbed tables.
This "one-size-fits-all" routine performs all of the tasks in bulk -- similar to what Lotus Notes does automatically. The logic then can be encoded directly in the HTML attributes for any input and div tags involved.
This example adds hidewhen attributes to the div tags, but they can also be used with other tags. For the input tags, validation and prompt attributes were added.
Place this in your JavaScript Header: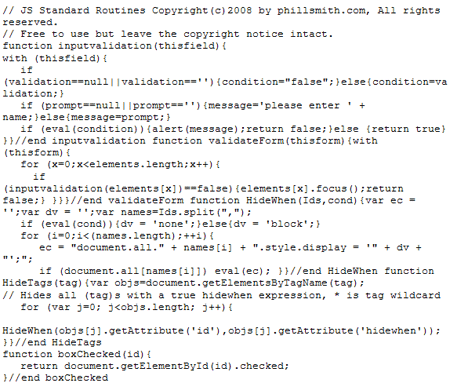 (Click on code for enlarged view and script download.)
And put this in your HTML: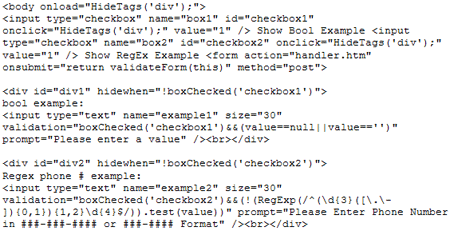 (Click on code for enlarged view and script download.)
The following line is not required: <input type="text" name="example" size="30" /><br> <input type="submit" value="Submit" /> </form> </body>
The challenge we presented ourselves with was to use getElementById instead of document.all in HideWhen() and combine "validation" and "prompt" to one HTML attribute.
You can see a working example at: http://www.jsadserver.com/fieldvalidation1.html.
Do you have comments on this tip? Let us know.
This tip was submitted to the SearchDomino.com tip library by member Phill Smith. Please let others know how useful it is via the rating scale below. Do you have a useful Lotus Notes, Domino, Workplace or WebSphere tip or code snippet to share? Submit it to our monthly tip contest and you could win a prize.

Dig Deeper on Lotus Notes Domino Application Development