Manage
Learn to apply best practices and optimize your operations.
Open documents in Lotus Notes from the Web without a UNID
You can use the "Notes://" URL and the UNID to open documents in the Lotus Notes client from a link on the Web. But what do you do if you only have the view and key? This tip offers a solution.
The standard method to open documents in a Lotus Notes client from a Web link is by accessing the "Notes://" URL. You can find the proper syntax for this on the second to last tab of the document properties of each Lotus Notes document under the "Identifier."
There is a caveat for this method to work, however. You also must know the UNID of the Notes document.
If you don't have the UNID but know the view and the key, you can still open documents in Lotus Notes from a link on the Web using following code in an agent. I suggest naming it something like:
http://server/dbpath/agnName?OpenAgent&view=viewname&key=keyvalue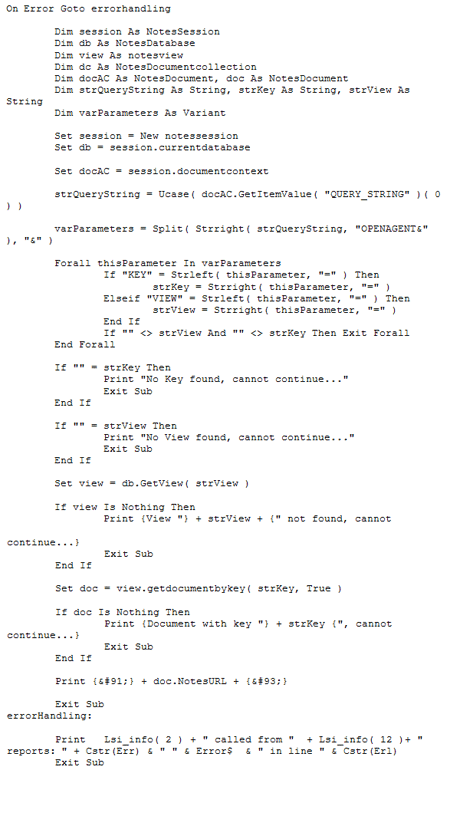 (Click on code for enlarged view and script download.)
Do you have comments on this tip? Let us know.
This tip was submitted to the SearchDomino.com tip library by member Michael Zischeck. Please let others know how useful it is via the rating scale below. Do you have a useful Lotus Notes, Domino, Workplace or WebSphere tip or code snippet to share? Submit it to our monthly tip contest and you could win a prize.
Related resources from SearchDomino.com:
Fix and update Lotus Notes documents with limited access