Manage
Learn to apply best practices and optimize your operations.
Quickly scan all databases on a Lotus Domino server
Use this agent to quickly scan all the databases on your Lotus Domino server. You'll find out which databases you don't have access to, which aren't included in the directory catalog and more.
When performing day-to-day administrative tasks, you may need to retrieve a list of all the databases on a particular Lotus Domino server. For example, you may want to find which databases you don't have access to, or the databases that aren't included in the directory catalog. Perhaps you want to identify duplicate templates on the server.

Download this free guide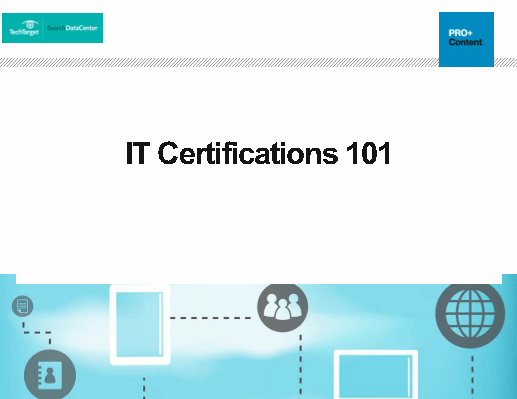 Download: IT Certifications 101
Inside this exclusive essential guide, our independent experts break down which IT certifications are worth your time and effort, and how to get started obtaining them to further your career— including specific certifications that any cloud or desktop pro should seriously consider.
You can use the Lotus Notes Administrator client to view the list of all databases on a server, but it only offers limited ways of sorting and filtering the list and doesn't always provide all the information you need about each database. You could also use the Database Catalog, but not all databases are necessarily included in it.
This agent will quickly and easily retrieve a list of all databases on a Domino server, as well as plenty of useful information about each database.
The first step is to download the ServerScan.nsf database. After you've downloaded the database, you'll need to edit two values in the Scan server agent.
Open the database, then go to View -> Agents (Figure 1).


Figure 1. Take a look at the agents in the ServerScan.nsf database.
Next, open the Scan server agent (Figure 2).


Figure 2. Open the Scan server agent from the database.
In the Initialize section of the agent, you'll see two constants defined, SERVERNAME and FILENAME. You'll need to change these values to match your environment (Figure 3).


Figure 3. Change the SERVERNAME AND FILENAME value constants to match your Domino environment.
SERVERNAME is the name of the Domino server that you want to scan; for example "DevServer1." Leave this blank if you'd like to scan your local computer.
FILENAME is the name of the .csv file where the results of the scan will be recorded. In this example, the results will be written to C:\temp\ServerScan.csv. You can change this to any filename you like, but I recommend keeping the file extension as .csv.
Save and close the agent after you've changed these two values. You're now ready to run the agent from the Actions menu in Lotus Notes (Figure 4).


Figure 4. Run the Scan server agent from the Actions menu.
As the agent runs, a status bar will show a count of the databases being scanned (Figure 5).


Figure 5. The status bar will display which databases have been scanned.
Once the agent has finished scanning the databases, the results will be stored in the file you specified in FILENAME above. You can now open the file and analyze the scan results. I prefer to use a spreadsheet for this (Figure 6).


Figure 6. Here's an example of a spreadsheet that I use to analyze my scan results.
Each row in my spreadsheet represents one database on the server that was scanned. There are a number of different attributes that are recorded for each database.
Note: Some of these database attributes can only be retrieved if the database could be opened. The scan will identify databases that you don't have access to. The scan will only record a subset of the attributes for these databases (Table 1).

Table 1. Explaining the various database attributes
| | | |
| --- | --- | --- |
| Database Attribute | Description | Requires database to be open? |
| Title | Title of the database | No |
| Filename | Filename of the database | No |
| File path | File path of the database | No |
| Replica ID | Database replica ID | No |
| Design template name | Name of the design template from which a database inherits its design | No |
| Template name | Template name of a database, if the database is a template | No |
| Size | Size of a database in bytes | No |
| Opened? | Whether or not the database be opened | No |
| Date created | Date the database was first created | Yes |
| Date last modified | Date the database was last modified | Yes |
| Full Text Indexed | Whether or not the database has a full-text index | Yes |
| Percent used | The percentage of the total size of a database occupied by real data (not including empty space). | Yes |
| In directory catalog | Indicates whether a database appears in database catalogs | Yes |
You can now quickly sort, filter and analyze the data in your spreadsheet software. Some of the ways you might want to use this data include:
Finding all databases that couldn't be opened. This indicates that you don't have access to the database and may indicate some ACL issues with the database.

Identifying duplicate templates. Sort by Template name to identify any duplicate databases that may claim to be the same template.

Locating old databases that haven't been used in a long time. Sort by date last modified to identify databases that may need to be removed or archived.

Identifying databases not listed in the directory catalog but should be. You can accomplish this by sorting by In directory catalog.
I've suggested a few ways that you can use this data, but I'm sure you'll be able to find more. The Scan server agent can easily be extended to include more database attributes by altering the LotusScript code (shown below).
Note: For those interested, the LotusScript source code for the agent is shown below.


(Click on code for enlarged view and script download.)
Do you have comments on this tip? Let us know.
ABOUT THE AUTHOR:
Ethann Castell
Ethann Castell is a senior consultant with Caliton Innovations. He has extensive experience across all aspects of Lotus Notes and Domino dating back to 1995. Caliton Innovations develops leading-edge Lotus Notes tools, and provide boutique consulting services. You can contact Caliton Innovations through their Web site at www.Caliton.com.
Dig Deeper on Lotus Notes Domino Administration Tools