Manage
Learn to apply best practices and optimize your operations.
Run or restart Notes/Domino agents via text messages
Discover how one Notes/Domino developer at a small company set up his mail database to send him a text message when an agent terminates abruptly. You'll also get the code that you can text back to the database to run or restart the agent.
We're a small Notes/Domino shop and I'm our only developer, so I like to know when critical agents terminate abruptly. One solution is to set up your cell phone number as an email address (5551234@isp.com, for example). This way, you receive a text message on your phone when an agent terminates as an agent exits

(AgentLogging routine). To correct terminating agents due to contention or to simply rerun an agent, I set up a mail-in database to receive a text message and trigger the agent.

To do this, create a mail file that is associated with a mail-in database and create an agent that runs when new mail arrives. Send a text message to the email address of the mail-in database and give it a code or a one-word name in the body. The agent receives this text and uses it to restart or run the agent. You can also build a case statement of words or use a table in the database.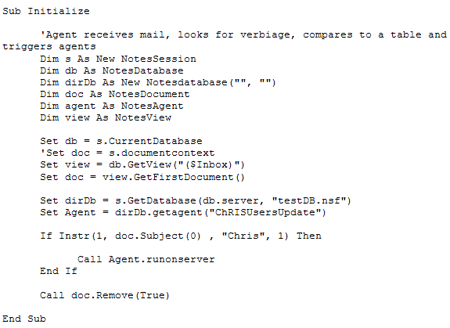 (Click on code for enlarged view and script download.)
Do you have comments on this tip? Let us know.
This tip was submitted to the SearchDomino.com tip library by member Doug Burns. Please let others know how useful it is via the rating scale below. Do you have a useful Lotus Notes/Domino technical tip or code snippet to share? Submit it to our monthly tip contest and you could win a prize.

Dig Deeper on Lotus Notes Domino Mailbox Management