Manage
Learn to apply best practices and optimize your operations.
Search Microsoft Active Directory with LotusScript
Since many companies use both Lotus Notes and Microsoft, having the ability to search Active Directory from a Lotus Notes view can be helpful. This LotusScript searches AD without having to rely on a third-party driver.
It's common for companies to use both Microsoft Active Directory and Lotus Notes. My organization uses Active Directory and Lotus Notes side by side to validate Lotus Notes and SharePoint applications. I recently had a request to query Active Directory based on users' profiles that were residing in our Lotus Notes view.
I've implemented the same logic in LotusScript using the Microsoft ADODB driver, which can easily query AD without installing a third-party driver.
This generic function reads Lotus Notes documents and passes the user's common name to the function. The function then searches Active Directory. You must know your Active Directory server name -- or IP address -- to implement this code.
Use this LotusScript to search Active Directory. It uses "userName" as a parameter and performs the search in AD, then returns "0" or "1" to denote "Success" or "Failure" flags.
This code can be extended to create, modify or remove Lotus Notes/Active Directory records or to synchronizes them on a specific schedule.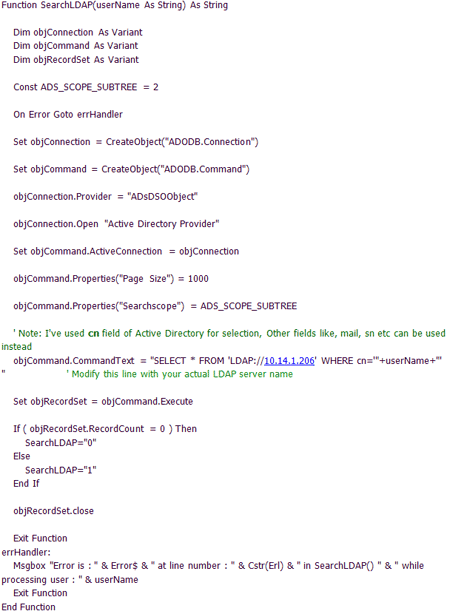 (Click on code for enlarged view and script download.)
Call this routine using the following code:
        Set tmpName= New NotesName
(Replace(docProfiles.GetItemValue("Name")(0),"'", "\''")) 
' Replace function will make sure if 
user name contains any single quotes it escape them
        
        isFound =  SearchLDAP(tmpName.Common)

Do you have comments on this tip? Let us know.
This tip was submitted to the SearchDomino.com tip library by member Rishi Sahi. Please let others know how useful it is via the rating scale below. Do you have a useful Lotus Notes/Domino technical tip or code snippet to share? Submit it to our monthly tip contest and you could win a prize.

Dig Deeper on Lotus Notes Domino Interoperability