Manage
Learn to apply best practices and optimize your operations.
Secure Lotus Notes/Domino 8.x from mail to unknown recipients
Reduce Notes/Domino 8.x server strain by adjusting SMTP configurations settings to reject email messages to anonymous unknown recipients and groups. Find out how.
Lotus Notes/Domino security administrators have to ensure that mail server loads don't increase from attacks such as email bombs, anonymous email messages, etc. Lotus Notes/Domino 8 allows you to set the SMTP configurations to conduct lookups in the directory before routing messages within your infrastructure. When this setting is configured, the Domino server will reject mail to ambiguous addresses and groups.
Once a message is rejected, a return message is routed back to the sender to inform him that the Domino environment rejected the message. This is based on a corporate policy, in case a genuine user is trying to reach you. By using this method, informed senders can request that you to add them to the list of "safe" senders , thereby allowing you to receive future email.
To do this, modify the appropriate setting in the Configuration Settings document by navigating to the Router/SMTP -> Select Restrictions and Controls -> SMTP Inbound Controls tab. Here you'll find six additional sections that you can use to configure the SMTP protocol.
For this tip, navigate to the Inbound connection controls and adjust the settings as shown in Figure 1.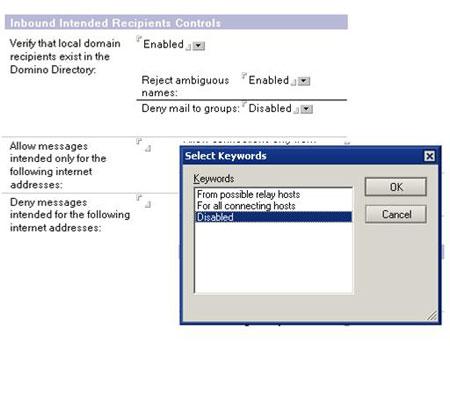 Figure 1. This setting allows you to reject messages to ambiguous recipients.
Do you have comments on this tip? Let us know.
This tip was submitted to the SearchDomino.com tip library by member Susan Housie. Please let others know how useful it is via the rating scale below. Do you have a useful Lotus Notes/Domino technical tip or code snippet to share? Submit it to our monthly tip contest and you could win a prize.

Dig Deeper on Lotus Notes Domino Administration Tools