Send SMS text messages between Lotus Notes 7 and mobile devices
Discover a tool download called NotesSMS that enables the sending and receiving of SMS text messages between Lotus Notes 7 and mobile devices.
I just discovered a tool download from Red Oxygen called NotesSMS that enables the sending and receiving of SMS text messages between Lotus Notes 7 and mobile devices.
Short Message Service (SMS) is commonly referred to as "text messaging." It is a service for sending short messages of up to 160 characters (224 characters if using a 5-bit mode) to mobile devices, including cellular phones, smartphones and PDAs.
There isn't a lot of information available about the utility, but I did find this brief description and screenshot on sharewareplaza.com:
Send instant SMS messages from IBM Lotus Notes to any mobile phone. Receive SMS replies from recipients directly into your Lotus Notes email inbox. Receive SMS reminders on your mobile phone for any event scheduled in your Lotus Notes calendar. Preset a time and date for an SMS message to be delivered. This allows you to send SMS messages to any of your contacts even when you are disconnected from the Internet or away from your PC.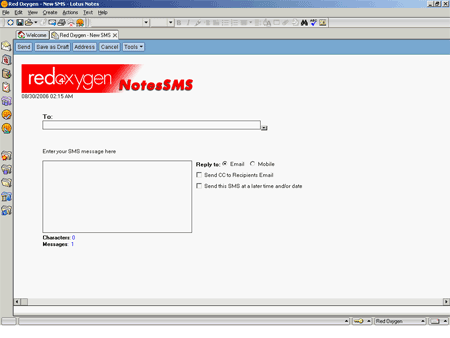 There are also a few additional features and functions described on the vendor's NotesSMS product page.
A free NotesSMS trial is available, which includes 25 SMS credits. One domestic text message sent or received equals one SMS credit. One international text message sent equals two SMS credits. After the free trial, U.S. pricing ranges from $12 a month for 100 SMS credits for the Bronze Plan to $60 a month for 1,000 credits. All plans max out at 50 users though, so you should probably contact Red Oxygen if you're interested in a wide-scale, enterprise-level purchase.
About the author: Christine Herbert is senior editor of TechTarget's messaging and collaboration Web sites, SearchExchange.com and SearchDomino.com.
You can do the same thing using regular Lotus Notes email. Just address the email to the mobile device, for example: 1115551212@vtext.com. Just make sure to find the SMS server of this mobile provider.
—Mike M.
******************************************
I found your tip regarding SMS messaging interesting, and I thought you might find two other pieces of information useful.
Most carriers provide email-to-SMS gateways for free. By simply finding out who the person's email carrier is, you can add his or her SMS email address to your Lotus Notes Personal Address Book (PAB). For example, mine is in the following form: [phonenumber]@txt.att.net. Just put the message in the subject line, and you'll be within the limits.

I find this works exceptionally well for sending Lotus Notes calendar reminders to my mobile phone. Best of all, not only can you forget licensing fees, this doesn't require any programming effort -- most phones (even my ancient Nokia 3590) allow you to respond to the sender.

You can get a list of some common gateways at http://en.wikipedia.org/wiki/SMS_gateways#Email_to_SMS.

True gearheads might appreciate knowing that there's a free SMPP API at http://opensmpp.logica.com that allows you to send SMS messages from any application. It's written in Java code.
—Dave L.
Do you have comments on this tip? Let us know.
Please let others know how useful this tip is via the rating scale below. Do you have a useful Lotus Notes Domino or WebSphere tip or code snippet to share? Submit it to our tip contest and you could win a prize.