Manage
Learn to apply best practices and optimize your operations.
Two fast and easy Domino Web Access performance tips
SearchDomino.com contributor Andy Pedisich explains two simple configuration changes you can make to Domino Web Access that will improve its performance for your users.
VIEW MEMBER FEEDACK TO THIS TIP
Here are two things that will improve Domino Web Access performance for your users -- one is something you can do for them; the other is something they can do for themselves.
1. Reusing child windows
Turn on the "Reuse child windows" functionality for Domino Web Access. When this feature is turned on, DWA caches and reuses parts of mail and calendar forms that don't change. The performance time is then improved for the most frequently used actions: reading and creating email messages and creating calendar entries.
If you're still using an R6.x Domino server to host DWA, you can activate this function by adding this parameter to the server's Notes.ini:
inotes_WA_ReuseChildWindows=1
However, that parameter is now ignored by the Lotus Domino 7 server. By default, DWA users will be presented with a preference to turn the feature on.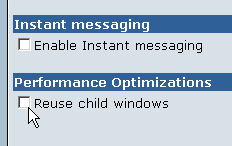 This can sometimes confuse people, since the wording is technical and probably not easily understood by the average user.
Thank goodness, the functionality is now under the control of the Server Configuration Document, way down in the bottom right of the Domino Web Access section.

Enabling this parameter in Server Configuration Documents forces all Domino Web Access 7 users to reuse child windows and get the performance gain. The only issue is that the option still appears in the DWA preferences section with the option grayed out so that the user can't change it, which might invite more help desk calls.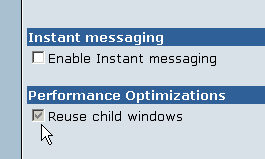 To eliminate those pesky support calls about this option, add the following to the DWA7 server's Notes.ini:
iNotes_WA_DisableReuseChildWindows=1
When DWA users go to their preferences, the "Reuse child windows" option will be gone as shown below.

The checkbox and the prompt are GONE! So are those callers, asking: "Hey, what's a child window? And how come I can't change that setting?" More importantly you'll be giving your users that promised performance boost.
2. For all list-type views -- show one page at a time
The second option that will speed things up for Domino Web Access 7 is something that the user has to switch on for themselves. (Yes, I know. I don't like that part either. I would rather have a way to pre-set it for the users so that they don't have to deal with it.)
The setting is in the Preferences -> Display Option section of DWA7.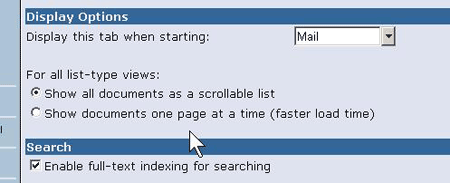 By default, it is set to show all documents as a scrollable list. This option creates scroll bars when there is a long list of information. I generally have a really long list of information, and I bet many of your users do as well.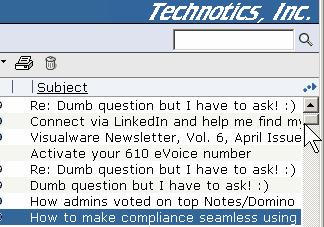 Scroll bars and content listed like that take a lot of time to render on the screen. Not a really long time, mind you. But for the technically impatient like you and me ... well, let's just say I have observed the evolution of plankton into land creatures while waiting for my laptop to finish booting.
Eliminate these performance-wasting scroll bars by telling users about the "Show documents one page at a time" option.

Instead of the scroll bars, users will see buttons they can use to page down the lists. They can also use the "Page Up" and "Page Down" keys to move through their messages. It's much faster then scrolling with the scroll bars. You and your users will be surprised at how much this improves the performance of DWA7.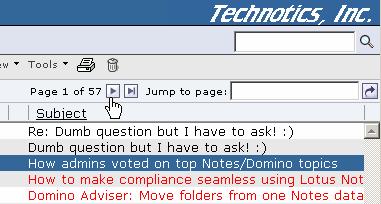 As I mentioned before, this is a change you have to tell your users about. You can't control it in policies or configuration documents. And there doesn't seem to be a parameter you can set to force it into place. I could be wrong about that. If you do know a way to do it, let me know and I'll spread the word and tell everyone you told me.
Just don't expect you users to thank you for configuring a better performing DWA. They're not ungrateful, mind you. They're just anxious to get to their next email.
About the author: Andy Pedisich is President of Technotics, Inc. He has been working with Lotus Notes and Domino since Release 2. Technotics provides strategic consulting and training on collaborative infrastructure projects for customers throughout the world. You can contact Technotics through their Web site at www.technotics.com.
In Domino Web Access there is a profile document called: inotesprofile. If you change that field to say " ListViewType = 1," it will result in page scrolling. If you change the field to say " ListViewType = 0," the result will be a long list of all the messages in your Lotus Notes Inbox, as well as page scrolling.
—Lief L.
******************************************
This is an excerpt from an IBM's technote entitled: Information on Performance Fix for Domino Web Access 6.5.3.
"Please note that the use of the 'Reuse Child Windows' feature has introduced several regressions where stale data is used. This can result in the sending of attachments to unintended recipients, the overwriting documents in the Sent folder of the mail file, and other miscellaneous errors.
These issues are present in both the DWA 6.5.3 Performance Fix and DWA 6.5.4, and they will be addressed in the next Domino maintenance release. The issues are also addressed in an updated Performance Fix which is currently available through Lotus software Support.
Customers can use the following workaround:
Do not use the 'Reuse Child Windows' option.
This option can be disabled in DWA by opening Preferences, selecting Other and deselecting the 'Reuse Child Windows' checkbox under the Performance Optimizations section.
Further Information on iNotes_WA_ReuseChildWindows=1
As noted above, adding iNotes_WA_ReuseChildWindows=1 to the Domino Server's Notes.ini globally enables the 'Reuse Child Windows' feature by default. Unfortunately, the iNotes_WA_ReuseChildWindows Notes.ini parameter cannot be used to globally disable the reuse of child windows; changing the value from "1" to "0" does not globally disable the feature.
So that no new users will have the 'Reuse Child Windows' feature enabled, Domino Administrators should ensure that iNotes_WA_ReuseChildWindows is either not present at all in the Domino Server's Notes.ini or is set to "0". However, this will not be a workaround for any previously existing DWA clients who have been privy to the global default setting, or whose users have manually enabled the 'Reuse Child Windows' feature. In these cases, each user will need to manually disable 'Reuse Child Windows' through the DWA Preferences."
—Kim K.
Do you have comments on this tip? Let us know.
Please let others know how useful this tip is via the rating scale below. Do you have a useful Lotus Notes, Domino, Workplace or WebSphere tip or code snippet to share? Submit it to our tip contest and you could win a prize.

Dig Deeper on Domino Web Access (iNotes)