Manage
Learn to apply best practices and optimize your operations.
User defined array class - Part II
This user defined array class can be used for manipulating all kinds of operations on arrays.
Example of Array manipulation using a user defined array class. The code below is written on a button click event. Include the line below in the options event:



Download this free guide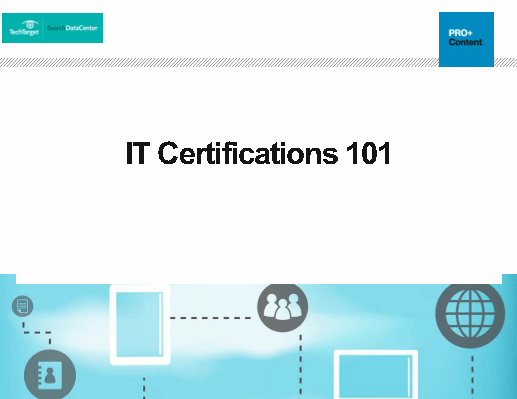 Download: IT Certifications 101
Inside this exclusive essential guide, our independent experts break down which IT certifications are worth your time and effort, and how to get started obtaining them to further your career— including specific certifications that any cloud or desktop pro should seriously consider.
By submitting your personal information, you agree that TechTarget and its partners may contact you regarding relevant content, products and special offers.
You also agree that your personal information may be transferred and processed in the United States, and that you have read and agree to the Terms of Use and the Privacy Policy.

	Use "CLASS : Array"
	
	Sub Click(Source As Button)
	Dim Array As ArrayClass	
	Dim index As Integer
	
	Dim MyArray As Variant			
	Dim tmpArray( 2 )  As Variant
	tmpArray( 0 ) = "6"
	tmpArray( 1 ) = "7"
	tmpArray( 2 ) = "8"
	
	'-- Instantiate the Arrray object
	Set Array = New ArrayClass	
	MyArray = Array.Intialize( "0,1,2")

	%REM
	Reuslt
	MyArray(0) = "0"
	MyArray(1) = "1"
	MyArray(2) = "2"
	%END REM
	
	MyArray =  Array.Add( "3,4,5" )
	
	%REM
	Reuslt
	MyArray(0) = "0"
	MyArray(1) = "1"
	MyArray(2) = "2"
	MyArray(3) = "3"
	MyArray(4) = "4"
	MyArray(5) = "5"
	%END REM

	MyArray =  Array.Add( " " )

	%REM
	Reuslt
	MyArray(0) = "0"
	MyArray(1) = "1"
	MyArray(2) = "2"
	MyArray(3) = "3"
	MyArray(4) = "4"
	MyArray(5) = "5"
	MyArray(6) = " "
	%END REM

	MyArray = Array.AppendArray( tmpArray )
	
	%REM
	Reuslt
	MyArray(0) = "0"
	MyArray(1) = "1"
	MyArray(2) = "2"
	MyArray(3) = "3"
	MyArray(4) = "4"
	MyArray(5) = "5"
	MyArray(6) = " "
	MyArray(7) = "6"
	MyArray(8) = "7"
	MyArray(9) = "8"
	%END REM

	MyArray = Array.RemoveIndex( 4 )
	
	%REM
	Reuslt
	MyArray(0) = "0"
	MyArray(1) = "1"
	MyArray(2) = "2"
	MyArray(3) = "3"
	MyArray(4) = "5"
	MyArray(5) = " "
	MyArray(6) = "6"
	MyArray(7) = "7"
	MyArray(8) = "8"
	%END REM

	MyArray = Array.RemoveIndex( 6 )
	%REM
	Reuslt
	MyArray(0) = "0"
	MyArray(1) = "1"
	MyArray(2) = "2"
	MyArray(3) = "3"
	MyArray(4) = "5"
	MyArray(5) = " "	
	MyArray(6) = "7"
	MyArray(7) = "8"
	%END REM

	MyArray = Array.Replace( " ", "" )

	%REM
	Reuslt
	MyArray(0) = "0"
	MyArray(1) = "1"
	MyArray(2) = "2"
	MyArray(3) = "3"
	MyArray(4) = "5"
	MyArray(5) = ""	
	MyArray(6) = "7"
	MyArray(7) = "8"
	%END REM

	MyArray = Array.TrimNull
	%REM
	Reuslt
	MyArray(0) = "0"
	MyArray(1) = "1"
	MyArray(2) = "2"
	MyArray(3) = "3"
	MyArray(4) = "5"
	MyArray(5) = "7"
	MyArray(6) = "8"
	%END REM

	MyArray =  Array.Add( " ,6   , 7   ,  8  " )
	%REM
	Reuslt
	MyArray(0) = "0"
	MyArray(1) = "1"
	MyArray(2) = "2"
	MyArray(3) = "3"
	MyArray(4) = "5"
	MyArray(5) = "7"
	MyArray(6) = "8"
	MyArray(7) = " "
	MyArray(8) = "6   "
	MyArray(9) = " 7   "
	MyArray(10) = "  8  "
	%END REM

	MyArray =  Array.TrimAll

	%REM
	Reuslt
	MyArray(0) = "0"
	MyArray(1) = "1"
	MyArray(2) = "2"
	MyArray(3) = "3"
	MyArray(4) = "5"
	MyArray(5) = "7"
	MyArray(6) = "8"	
	MyArray(7) = "6"
	MyArray(8) = "7"
	MyArray(9) = "8"
	%END REM

	MyArray = Array.Replace( "0,1,2", "00,01,02" )
	%REM
	Reuslt
	MyArray(0) = "00"
	MyArray(1) = "01"
	MyArray(2) = "02"
	MyArray(3) = "3"
	MyArray(4) = "5"
	MyArray(5) = "7"
	MyArray(6) = "8"	
	MyArray(7) = "6"
	MyArray(8) = "7"
	MyArray(9) = "8"
	%END REM


	Index = Array.GetIndex( "01", 1 )

	%REM
	Reuslt
	Index = 1
	%END REM

	Index = Array.GetIndex( "001", 1 )
	%REM
	Reuslt
	If there is no match then -1 is returned
	Index = -1
	%END REM

	UB = Array.GetUpperBound
	%REM
	Reuslt
	If there is no match then -1 is returned
	UB = 9
	%END REM
	LB = Array.GetLowerBound
	%REM
	Reuslt
	If there is no match then -1 is returned
	LB = 0
	%END REM

	MyArray = Array.InsertValue ( "000", 0  )
	%REM
	Reuslt
	MyArray(0) = "000"
	MyArray(1) = "00"
	MyArray(2) = "01"
	MyArray(3) = "02"
	MyArray(4) = "3"
	MyArray(5) = "5"
	MyArray(6) = "7"
	MyArray(7) = "8"	
	MyArray(8) = "6"
	MyArray(9) = "7"
	MyArray(10) = "8"
	%END REM
	
	MyArray = Array.InsertValue ( "001", 1 )
	%REM
	Reuslt
	MyArray(0) = "000"
	MyArray(1) = "001"
	MyArray(2) = "00"
	MyArray(3) = "01"
	MyArray(4) = "02"
	MyArray(5) = "3"
	MyArray(6) = "5"
	MyArray(7) = "7"
	MyArray(8) = "8"	
	MyArray(9) = "6"
	MyArray(10) = "7"
	MyArray(11) = "8"
	%END REM
	
	MyArray =  Array.Add( "00,3" )
	%REM
	Reuslt
	MyArray(0) = "000"
	MyArray(1) = "001"
	MyArray(2) = "00"
	MyArray(3) = "01"
	MyArray(4) = "02"
	MyArray(5) = "3"
	MyArray(6) = "5"
	MyArray(7) = "7"
	MyArray(8) = "8"	
	MyArray(9) = "6"
	MyArray(10) = "7"
	MyArray(11) = "8"
	MyArray(12) = "00"
	MyArray(13) = "3"
	%END REM
	MyArray = Array.Unique	
	%REM
	Reuslt
	MyArray(0) = "000"
	MyArray(1) = "001"
	MyArray(2) = "00"
	MyArray(3) = "01"
	MyArray(4) = "02"
	MyArray(5) = "3"
	MyArray(6) = "5"
	MyArray(7) = "7"
	MyArray(8) = "8"	
	MyArray(9) = "6"	
	%END REM

	MyArray = Array.Extract( 15)
	%REM
	Reuslt
	MyArray(0) = "000"
	MyArray(1) = "001"
	MyArray(2) = "00"
	MyArray(3) = "01"
	MyArray(4) = "02"
	MyArray(5) = "3"
	MyArray(6) = "5"
	MyArray(7) = "7"
	MyArray(8) = "8"	
	MyArray(9) = "6"	
	%END REM
	
	MyArray = Array.Extract( -2 )
	
	%REM
	Reuslt
	MyArray(0) = "8"	
	MyArray(1) = "6"	
	%END REM
	
	MyArray = Array.ReplaceIndex( 1, "001" )

	%REM
	Reuslt
	MyArray(0) = "001"	
	MyArray(1) = "6"	
	%END REM
	
	End Sub

Dig Deeper on Domino Resources - Part 5