Get started
Bring yourself up to speed with our introductory content.
Four easy steps to a Lotus Notes Smart Upgrade
When upgrading a Lotus Notes client, a Smart Upgrade lets administrators control the process via policy. Get the four steps to a Notes Smart Upgrade here.
There are two options when upgrading the Lotus Notes client: upgrade-by-mail and a Smart Upgrade. When upgrading by mail, administrators cannot track upgrades or control when users decide to initiate the process. One plus, however, is that this upgrade process still works on Lotus Notes 5.
A Smart Upgrade, on the other hand, can be controlled via policy. Users can be mandated to upgrade according to an administrator-set deadline and upgrades can be tracked using Smart Upgrade Tracking Reports. Keep in mind, though, that a Smart Upgrade will only work for Lotus Notes 6 or higher and will only track for Lotus Notes 7 or higher.
There are four simple steps involved in a Smart Upgrade for the Lotus Notes client.
Create a Smart Upgrade database to house your upgrade kit using the built-in template. This kit is actually the extracted install files.

Update the configuration document with the location of the Smart Upgrade database.

Create a document in the Smart Upgrade database (Figure 3) that includes the kit (or a link to the kit on the file server).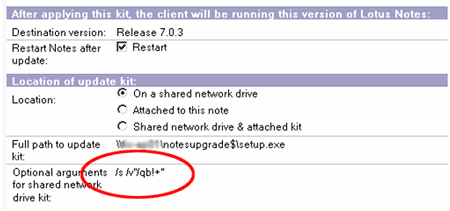 Figure 3. You can create a document in the Smart Upgrade database.
Create or edit an existing desktop settings policy document and assign it to users.
Optional arguments can be used to run silent installs that require little to no user input during a Smart Upgrade. Admins can choose the appropriate level of user interaction, track the process using the Smart Upgrade Tracking Reports and use the defaults for the client installation – you don't need to use a customized installer package. Another benefit is that you can use third-party deployment software.
There are various silent install switches to perform tasks such as initiate silent mode (/s), initiate the passing of more arguments (/v" /qb") and so on. Additional information on silent install and silent install switches are available in IBM's Understanding Lotus Notes Smart Upgrade Redpaper.


TUTORIAL: UNDERSTANDING A LOTUS NOTES SMART UPGRADE ROLLOUT



Home: Introduction


Part 1: Pre-upgrade strategies for Lotus Notes users


Part 2: Getting Lotus Notes users excited about new features


Part 3: Four easy steps to a Lotus Notes Smart Upgrade


Part 4: Lotus Notes Smart Upgrade gotchas

ABOUT THE AUTHOR:
Jess Stratton
Jess Stratton is the principal consultant for Solace Consulting (www.solacelearning.com). She has more than 7 years experience with Lotus Notes and Domino, specializing in both administration and development. Jess is an author, speaker and owner and operator of a computer training facility specializing in end-user education. She also hosts LotusUserGroup blog at www.lotususergroup.org/blogsphe.nsf. Contact her at

[email protected]
Dig Deeper on Lotus Notes Domino Deployment and Migration Advice