Get started
Bring yourself up to speed with our introductory content.
Getting Lotus Notes users excited about new features
Learn about new Lotus Notes 8 and 8.0.1 user interface changes and enhancements, as well as new features such as shared contacts, sidebar widgets and more.
It's important to get users excited about the new Lotus Notes features that they'll be able to use after the upgrade. You can refer users to helpful release notes and blogs. Additionally, a "New Features" tab is located at the beginning of the Notes client help file. Be sure to tailor specific features of interest to your organization and Lotus Notes environment.
The following are a few key features that users may find interesting in Lotus Notes 8 and 8.0.1 as well as some changes in Notes 8 that may cause some trouble.
Lotus Notes 8 features
Mail file preview pane that's viewable on the bottom or the side

Inline spell checker

View mail in conversation threads

Shared contacts

Embedded browser in Notes client that can be the user's system browser

Day-at-a-Glance view available in the sidebar

Recent Contacts list, which shows all contacts you have corresponded with recently via email or instant message (IM)

Collaboration history feature now located in the mail file (It can be hard to find on its own, so be sure to explain to users where it is and how to use it, see Figure 1.)
.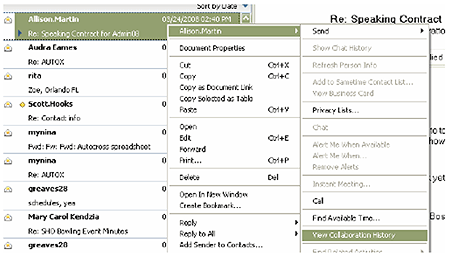 Figure 1. Lotus Notes 8 shows recent collaboration history in the mail file.
Tricky Lotus Notes 8 features
Selecting multiple documents is now the "universal" method. CTRL+click should be used for nonadjacent messages. Use SHIFT+click for adjacent messages. Explain to users that these methods work for most other programs, including the Windows Explorer file system.

Databases are now called Applications.

Unprocessed calendar invitations are ghosted in the Calendar view.

Unread messages appear in bold-face font, not red font.
Lotus Notes 8.0.1 features
Sidebar widgets support Notes views and Google calendars.

Live text recognizes text patterns that users specify.

Visible mail quotas are located at the top left of the screen (Figure 2).


Figure 2. The top left of the screen in Lotus Notes 8.0.1 shows user mail quotas.
Drag-and-drop capabilities are available for Notes, browsers, mail, calendars and to-do bookmarks.

"To Do" user interface has been enhanced.


TUTORIAL: UNDERSTANDING A LOTUS NOTES SMART UPGRADE ROLLOUT



Home: Introduction


Part 1: Pre-upgrade strategies for Lotus Notes users


Part 2: Getting Lotus Notes users excited about new features


Part 3: Four easy steps to a Lotus Notes Smart Upgrade


Part 4: Lotus Notes Smart Upgrade gotchas

ABOUT THE AUTHOR:
Jess Stratton
Jess Stratton is the principal consultant for Solace Consulting (www.solacelearning.com). She has more than 7 years experience with Lotus Notes and Domino, specializing in both administration and development. Jess is an author, speaker and owner and operator of a computer training facility specializing in end-user education. She also hosts LotusUserGroup blog at www.lotususergroup.org/blogsphe.nsf. Contact her at jstratton@solacelearning.com.