Get started
Bring yourself up to speed with our introductory content.
Install Lotus Traveler for Windows Mobile device synchronization
Domino 8.0.1 supports Windows Mobile 5 and Mobile 6 devices via Lotus Traveler. This tutorial tells how to install it, and how to quickly synchronize your device.
One of the new features in Lotus Notes Domino 8.0.1 is that it natively supports Windows Mobile devices through...
Continue Reading This Article
Enjoy this article as well as all of our content, including E-Guides, news, tips and more.
Lotus Traveler. IBM offers its Passport Advantage customers a free, separate Lotus Traveler download.
Lotus Notes Traveler capabilities
Lotus Traveler is a lightweight wireless synchronization solution for small to medium businesses (SMBs) that wirelessly synchronizes Lotus Notes and iNotes email (with attachments), calendar, to-do lists, journal and contacts to Windows Mobile 5 and Mobile 6 devices. It doesn't, however, support Palm or Sybian devices. Keep in mind that Lotus Traveler targets the SMB market; therefore, it lacks several security and deployment features that are essential in large enterprises.
How does Lotus Traveler work?
Lotus Traveler is not a Lotus Notes client for Windows Mobile devices. The Lotus Traveler client, together with the Lotus Traveler server facilitates synchronization between the personal information management (PIM) application on a Windows Mobile device and Lotus Notes or iNotes mail on your Lotus Domino mail server.
The Lotus Traveler server requests data from local or remote Domino servers (version 7.0.2 and higher) and sends the data to the Windows Mobile device. The device will connect only to the Lotus Traveler server -- not to Domino servers containing your Notes or iNotes mail files -- when these files aren't available on the Lotus Traveler server.
There is no need to poll for new mail. The Domino server pushes new mail to your Windows Mobile device, as long as the Lotus Notes Traveler client is active.
Lotus Traveler prerequisites
Lotus Traveler can only be installed on a Windows Domino 8.0.1 (or higher) Domino server. Your mail file must reside on a Domino server running version 7.0.2 or higher.
So now you're asking, "how do I configure Lotus Traveler in my current Lotus Notes Domino environment?" If your current Lotus Notes Domino environment doesn't support Domino 8.0.1, or you don't have a Lotus Domino server on Windows, you must install a separate server for Lotus Traveler.
You can install a new Domino server in a separate Domino Domain and Organization, so as not to interfere with your current environment. To do this, cross-certify both Organizations, set up Directory Assistance and provide the new Lotus Domino server with "Manager Access" to the users' mail files. The easiest way to accomplish this is to add the Lotus Traveler server to your existing LocalDomainServers group.
Note: Don't forget to turn on "trusted for credentials" in Directory Assistance or users won't be able to log on.
If you don't currently have an accessible Windows-based Domino server, you must install a new server. If your environment supports Domino 8.0.1 -- with at least one Domino 8.0.1 server existing -- you're all set. If your Domino Directory has been upgraded to the 8.0.1 template, your best approach is the separate server plan mentioned above. This solution will also work if your current environment isn't on the Domino 8.0.1 template.
How to install Lotus Traveler
Installing Lotus Traveler is easy, although occasional issues have occurred with the English-language-only installer.
Those instances were related to the installer software itself, and were resolved by using the multi-language installer. Follow these steps to install Lotus Traveler in your Lotus Notes Domino organization:
Stop your Domino server.
Run the Lotus Traveler Setup program.
Choose "Complete" install.
Select one of two important choices:

Configure the HTTP Server on startup.
Set client download Web site as home page for this server.

When installing Lotus Traveler on a dedicated server, both selections should remain on. When combining Lotus Traveler with other Lotus products such as iNotes or Quickr, for example, consult the Lotus Traveler Infocenter.

After the installation program is finished, start your Lotus Domino server.
Open your Domino server from a browser to check the Lotus Traveler installation. You should see a screen similar to that in Figure 1.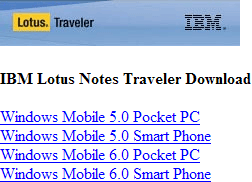 Figure 1. The Lotus Traveler download screen appears after opening your Domino server.
The Domino server log (log.nsf) should show something similar to this:
HTTP JVM: com.lotus.sync.servlet.TravelerServlet: init
HTTP JVM: Traveler 8.0.1.1.200803121533: debug = false
Lotus Traveler: Server starting...
Lotus Traveler: Server started.

How to activate Lotus Traveler on a Windows Mobile device
After configuring Lotus Traveler, you're ready to log onto the Domino server with your Windows Mobile device. Select your mobile device's operating system to download and install the .cab file.
After the installation is complete, the setup wizard will ask you for your username, password and Lotus Traveler server hostname.
Select the applications that you want to synchronize.
Note: By default, only the Inbox and Draft folders will synchronize. To synchronize other folders, go to Start -> Messaging -> Menu -> Tools -> Manage Folders.
Synchronization starts automatically once Lotus Traveler is launched. A shortcut can be placed in the device's StartUp folder to launch the client when the device is powered on.
ABOUT THE AUTHOR:
Fred Janssen is a principal administrator with more than 13 years experience in the Lotus Notes/Domino environment. He is currently employed as a Notes/Domino consultant with Eniac Essentials in the Netherlands. Fred frequently presents to local Notes/Domino user groups and also teaches similarly minded courses. He can be reached at fj[email protected].