Get started
Bring yourself up to speed with our introductory content.
Using exception policies
An exception policy lets you create a set of configurations that ignore other policies. Use the Domino Administrator client to create this policy.
Using Exception Policies: At the start of the excerpt it was stated there were two types of policies -- organizational and explicit. However, there's often the need for an exception to the rule. These exceptions are managed through the use of exception policies. An exception policy allows you to create a set of configuration settings that completely ignore all other policies.

WARNING: Administrators should use extreme caution when considering and implementing exception policies. When created, an exception policy ignores all settings associated with the primary policies that are implemented. Creating too many exception policies can cause a policy management nightmare -- making it virtually impossible to determine the policy settings and order of precedence.

At this point, you might be asking yourself, "When would I use an exception policy?" First, just to reiterate a previous point, exceptions policies should be rarely used. However, that said, they are used when a user needs special treatment or a custom set of policy settings.

An exception policy is actually an attribute associated with an existing organizational or explicit policy. When enabled, it allows the user to override any setting enforced by the policy. With an exception policy, you only specify the setting that will not be enforced. Exception policies can be created when a person performs a special job and requires the additional flexibility in policy settings.

For example, you might have a policy that enforces a mail database size quota of 100MB. Using an exception policy, you could allow an exemption to the mail file size and permit a larger size quota of 500MB, perhaps because the user transmits and receives large graphic files. In this case, the person has a very specific need and job responsibility.

While it's important to understanding this policy type should be used sparingly, it's equally important to understand the implications associated with this setting. In other words, you want to experiment with this field setting. The following steps outline creating an exception policy.

Step 1. Launch the Domino Administrator client.

Step 2. Navigate to the People & Groups tab.

Step 3. Select the Policies view.

Step 4. Create or select the policy.

Step 5. Navigate to the Administration tab.

Step 6. Select the Ignore settings from ancestor policies option (Figure 22).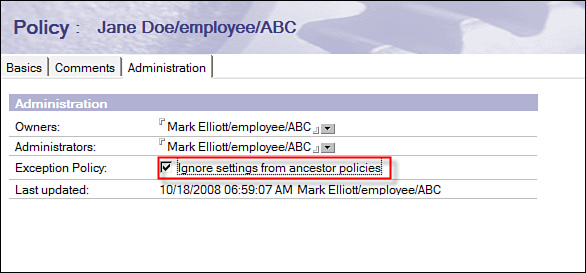 Figure 22. Use the Ignore settings from ancestor policies option to create an exception policy. Use caution when selecting this option. Generally speaking, you should avoid creating this type of policy.


Survival guide for Lotus Notes and Domino Administrators



Home: Introduction


Part 1: What are policies?


Part 2: How are policies implemented?


Part 3: What are settings documents?


Part 4: What is a policy architecture?


Part 5: Creating settings and policy documents


Part 6: Creating policy documents


Part 7: Registering a new user using an explicit policy


Part 8: Assigning an explicit policy to an existing user


Part 9: Using exception policies


Part 10: Viewing your policy settings

This chapter is an excerpt from the book, Survival Guide for Lotus Notes and Domino Administrators, authored by Mark Elliott, published by IBM Press, March 2009, ISBN 0137153317, Copyright 2009 by International Business Machines Corporation. All rights reserved. For more info, please visit the publisher site. Safari Books Online subscribers can also access the book at safari.com.

Click here for the chapter download.
Dig Deeper on Lotus Notes Domino Administration Tools